Yesterday we went into quite a bit of depth concerning our interpretation of the action in the bitcoin price so far this week. We noted that the action represented a consolidation of bullish and bearish sentiment, and that this consolidation could act as a sort of winding up before a big move. Action has now matured throughout last night's Asian session, and we are mid way through today's European session, and things haven't (as yet) worked out according to our thesis. We did get a little bit of movement, and our range support (which we predefined as 375.75 in yesterday's analysis) has been tested a few times, but our strategy has just been chopped around. As such, we haven't been able to draw a profit from the bitcoin market overnight, and we are going to switch up our approach fro this afternoon and, beyond, in to this evenings Asian session.
To reiterate, the action we are seeing at the moment has come as a result of the fundamental uncertainty surrounding bitcoin's viability and, in turn future. Things like this happen across all asset markets, and chance are we will be looking back thinking the whole industry overreacted by the end of this month. At that point we will probably return to the intraday volatility we are used to, and our breakout and intararange strategies will be more effective.
Today, however, and as mentioned, we're going to switch things up. How? By tightening our levels right up and playing a pure scalp breakout strategy. Tight targets, even tighter stops, and small, sharp positions. At its core, our scalp strategy is no different to our standard breakout strategy – only the risk reward differs.
So, with this said, let's get to our key levels and defined today's range. As ever, take a quick look at the chart below to get an idea of the levels in question.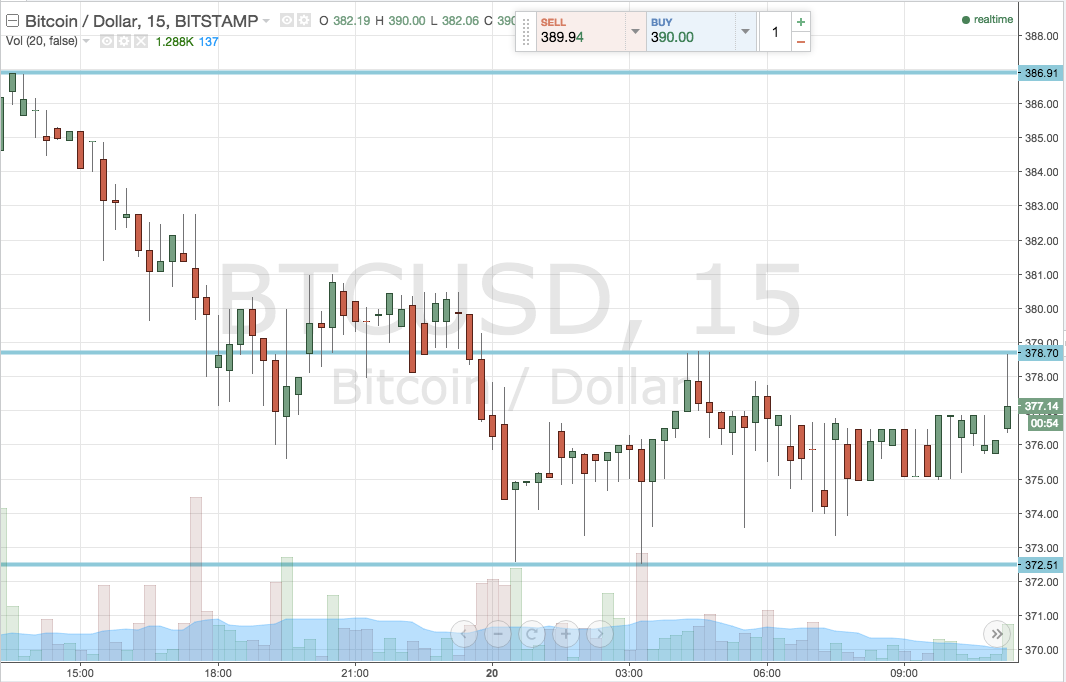 As you can see from the chart, the levels we are watching today are in term support at 372.51 to the downside and 378.70 to the upside. The former was tested twice overnight and held firm, while the latter is a level that has been tested on numerous occasions over the last week or so, and has – just as has its support counterpart – held firm.
We've got about a six dollar range to play with here, so intarrange is not really an option. Instead, we are going to focus purely on our breakout strategy with a – as mentioned- scalp target.
So, the upside first. If we get a break and a close above in term resistance it will give us an opportunity to enter a long position towards an initial upside target of 387 flat. A stop loss will define our risk, and somewhere around 376 looks attractive.
Looking the other way, if the bitcoin price closes below in term support on the intraday chart we will look to enter short towards a downside target of 368. Again this is a pretty tight target, so a tight stop is necessary. We're looking at circa 374 on this one.
Charts courtesy of Trading View