So we are well underway with the European session today in bitcoin price trading efforts and it's time to put some levels together that we can use to pull a profit from the market as things mature this afternoon. Overnight action brought us much more of the same sort of action that we have seen over the last few days – a degree of consolidation followed by some upside momentum – and there's a strong chance that this sort of sideways/breakout action will dominate heading forward into mid-to-late October. If it does, we will be able to draw profit relatively easily using a combination of our breakout and our intrarange strategies.
So, let's get things in place for today.
As ever, take a quick look at the chart below before we get started an idea where things stand. It is a one-minute candlestick chart and it has our range overlaid in green.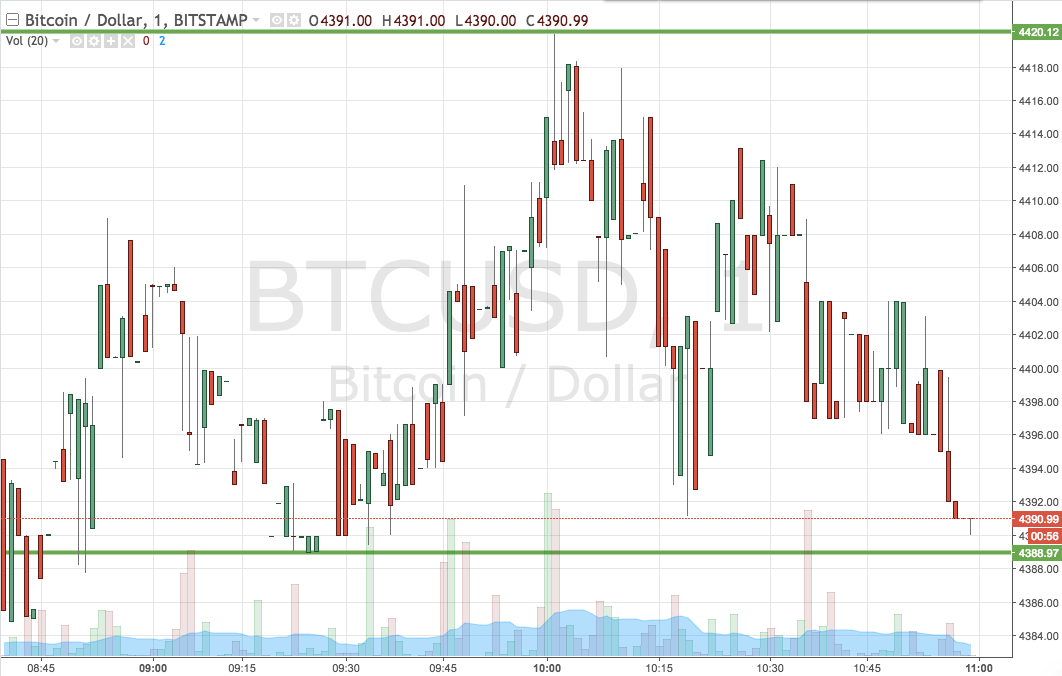 As the chart shows, the range we are going to use for the session today comes in as defined by support to the downside at 4388 and resistance to the upside at 4420.
Intrarange is an option with this sort of range with, so we will enter longer on a bounce from support and short on a correction from resistance, targeting the opposing levels with each position.
From a breakout perspective, we will look to enter long towards 4460 if we see a close up of resistance on the daily chart. On the trade, a stop loss somewhere in the region of 4410 will ensure we are taken out of the position in the event of a bias reversal.
Looking the other way, if we get a close below support, we will look at entering short towards a downside target of 4345. This one, a stop loss somewhere in the region of 4400 will keep risk tight.
Charts courtesy of Trading View