Right then. Here we go on our final analysis of the week, and it's going to be a pretty interesting one. The bitcoin price has given us lots to discuss this week, having initially started out relatively flat but – as the week matured – boosting to break the 1300 level that we've had in our sights for a while. This breaking validated a longer term bullish bias, and we noted in this morning's analysis that we would be looking for price to hold above this level near to medium term as indicative of us being able to maintain this bias.
Today's action has given us what we wanted – sort of. Price has declined a little bit from the post break highs, and currently trades in and around 1315. We see this as a sort of post break consolidation, and it's not too much of a surprise – traders are taking profits off the table and markets are rebalancing ahead of the next move.
If we see a test of 1300, we need it to hold firm if we are to maintain our bias. If it doesn't, we could easily see a slip back down towards the 1280 region.
Anyway, let's leave that alone for now, and focus on what's immediately ahead. For the final time this week, take a quick look at the chart below to get an idea of what's on, and where we're looking to get into the markets tonight.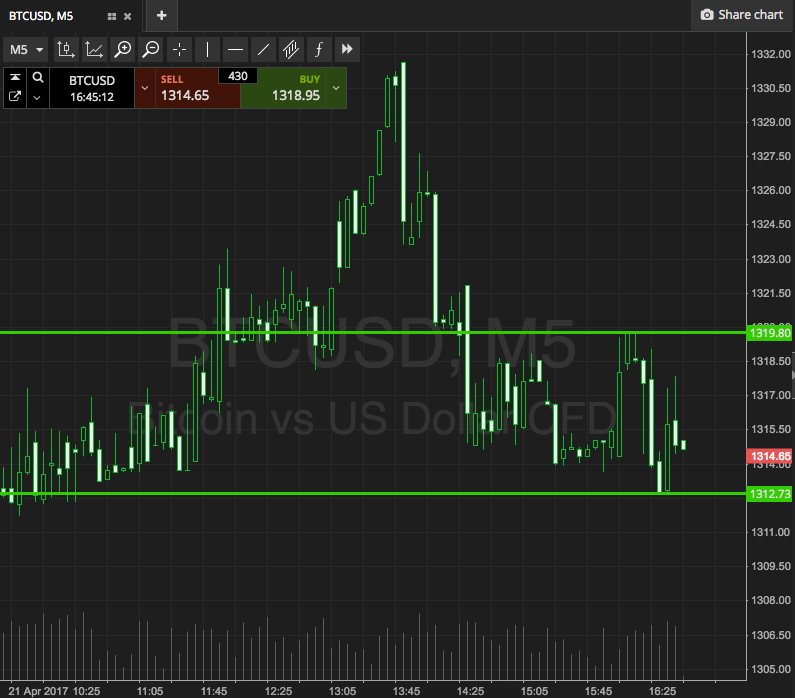 As the chart shows, the range we've got for this evening comes in at support to the downside at 1312, and resistance to the upside at 1319. Tight range, tight targets and risk management parameters.
If we see a close above resistance, we'll get in long towards an immediate upside target of 1330. Conversely, a close below support will put us in short towards 1302.
Let's see what happens…
Charts courtesy of SimpleFX