It's the start of a fresh day's trading in our European Bitcoin price trading efforts and it's time to get some levels in place with which we can carry forward into the session. Action overnight gave us more of what we were looking for, with price holding onto the recovery that we saw throughout the late European session yesterday and opening in and around the 4400 mark today. If we see a continuation of this strength, 5000 is a real possibility before the week draws to a close, perhaps even before the end of the session today.
With this in mind, let's not waste too much time on posthoc analysis. Instead, let's get our key levels in place and push forward into the European day trading session in an attempt to continue our run of recent good luck.
As ever, take a quick look at the chart below before we get started so as to get an idea of where things stand and where we intend to jump in and out of the markets on any volatility. It's a one-minute candlestick chart and it's got our key range overlaid in red.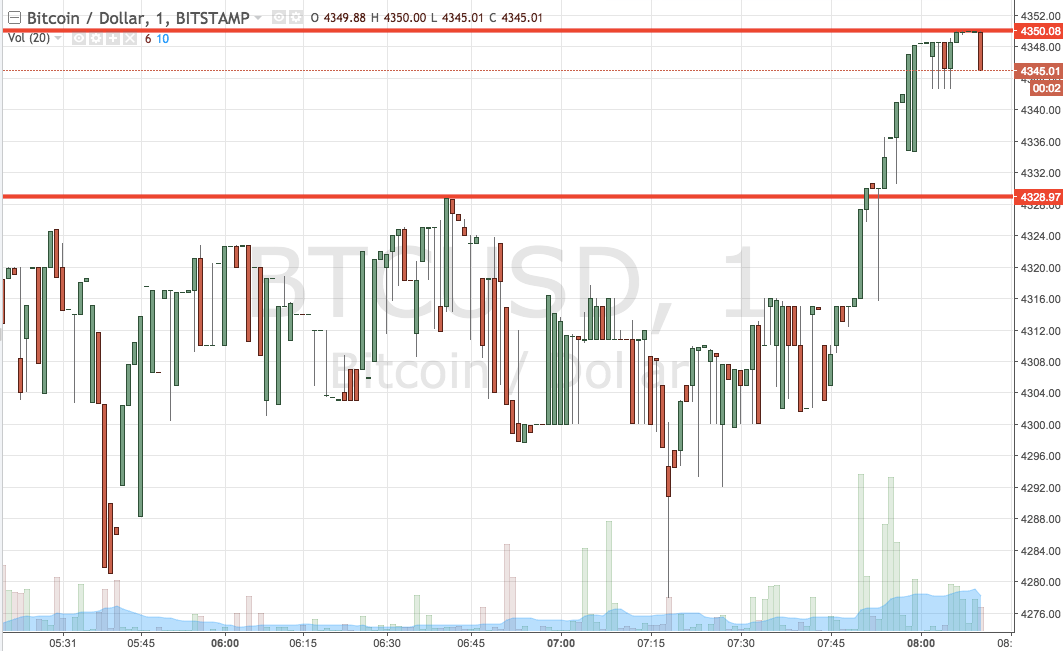 As the chart shows, the range we are looking at for the session today is a little bit tighter than some of those with which we have been trading the markets during the week so far. This isn't because we're altering our strategy, it's just because that's what action dictates.
We're going to hold on to our breakout approach for the session today, so if we see price break above resistance, we'll jump in long towards an immediate upside target of 4390. A stop on the trade at 4340 looks good.
Looking short, if we see price close below support, we'll get in towards a downside target of 4300 flat.
Let's see how things play out.
Charts courtesy of Trading View