We've been saying for a while now that the breaking of the 800 level would likely bring about some pretty strong upside momentum. We got into a trade on the break to back up this assumption, but thought that the Christmas break may temporarily delay the coming of this trade to fruition. As it turns out, it's not. The trade is now complete, and the bitcoin price is very much in full swing. We took a nice profit on the primary trade, and we got into a secondary trade early evening on the run. Again, we took a profit on this one, and all this means we are heading into the middle of the week on a pretty decent note.
In the interest of fair disclosure, this will be my last day for a few days on the analysis side of things. Holidays and all that. We'll still be running our strategy, however, and one of my compatriots will be covering the analysis while I'm out. So, let's set up some levels and see what we can pick up heading into the European session on Wednesday. Take a look at the chart below to get an idea of what's going on, and where we are looking to get in and out of the markets going forward.
It's a five-minute chart with our range overlaid, and it shows the last twelve hours or so worth of action.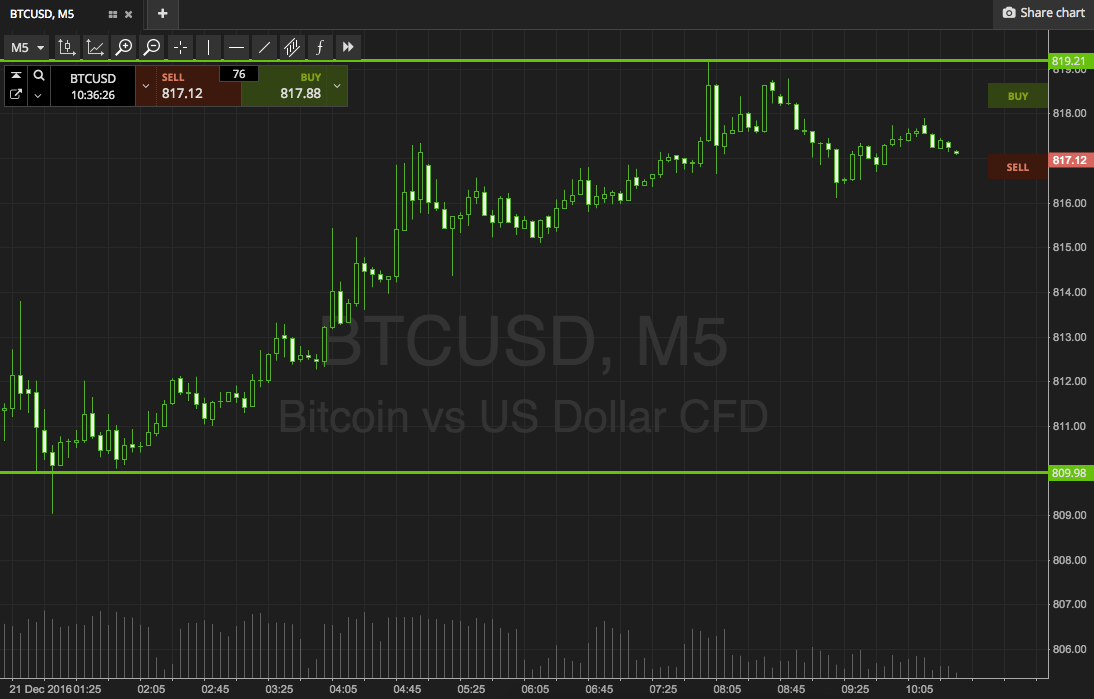 So, as the chart shows, the levels in focus for the early session are 809 to the downside as support, and in term resistance to the upside at 819. We will look for a close above resistance to get in to a long trade with an immediate upside target of 827. Conversely, a close below support will put us in short towards a downside target of 800 flat. A stop just the other side of the entry will take us out of the trade in the event of a bias reversal.
Charts courtesy of SimpleFX