So that's another day complete in our bitcoin price trading efforts and we are now about to enter what will likely be a period of low volume. Why? Because the Thanksgiving festivities are well underway in the US and there's going to be very little in the way of major participation over the next couple of days as a result.
This doesn't mean, of course, that we won't see any action. Things are still very much active in Asia (although it's the overnight session there right now) and the European evening has plenty of time to go moving forward.
In fact, there's a good chance we'll see some choppiness – especially if the bitcoin price mimics the kind of action we see in the more traditional financial asset markets near term.
Whatever happens, we'll be ready.
So, with this all in place, let's get some levels outlined that we can use to try and draw a profit from the market as and when things move this evening. As ever, take a quick look at the chart below before we get going so as to get an idea where things stand and where we'll be looking to get in and out of the markets when things move.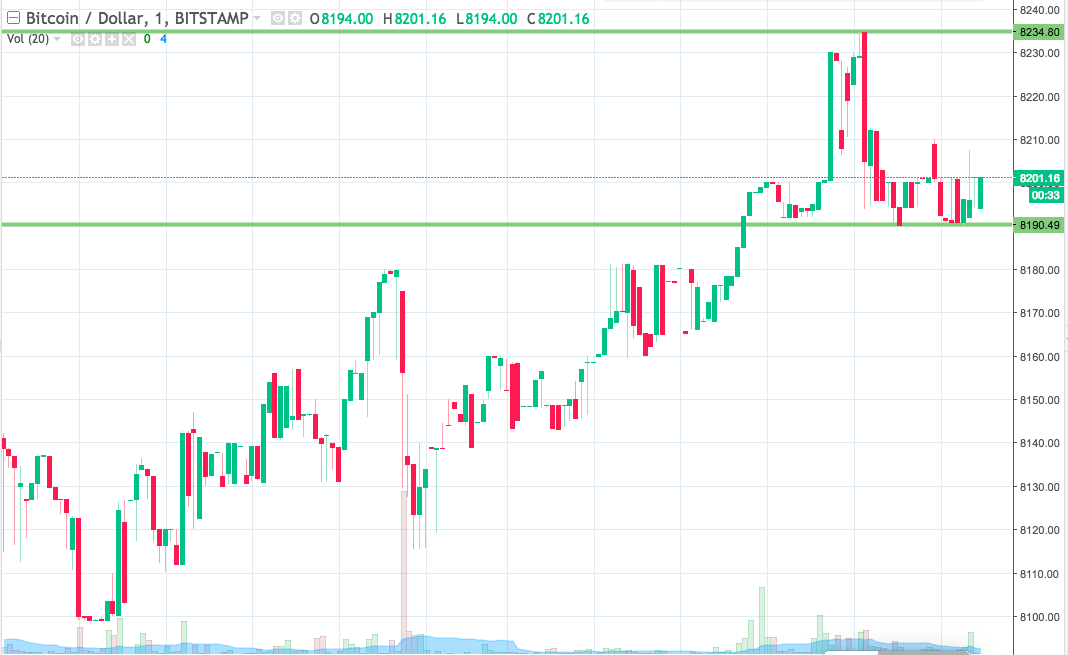 As the chart shows, the range we are looking at this evening is defined by support to the downside at 8190 and resistance to the upside at 8243. We are going to look at jumping into a long trade if we see a close above resistance, with an upside target of 8285.
Looking the other way, if we get a close below support, we will jump in short towards a downside target of 8150. We will use a stop loss on both positions somewhere in the region of 10-15 points the other side of the entry to take us out of the trades if things turn against us.
Let's see how things play out.
Charts courtesy of Trading View