Here we go then. Another day in the bitcoin price and, unfortunately folks, things aren't going to be quite as exciting as we might've initially hoped. Price flattened out overnight, and we didn't even mange to get in to a fully matured trade before day broke and the fresh European session came to the fore.
This author is in the Valencian region of Spain right now, and those familiar with the region will no doubt know of the annual Fallas tradition. In turn, those familiar with the tradition will know I'm getting all the excitement I need – albeit primarily being rooted in ducking and diving to avoid fireworks.
For the traders stuck behind their desks, however, it was a pretty dull night, and it doesn't look like it's going to get any better as the session gets under way? Why? Well, that's anyone's guess. A likely reason, however, is that the bitcoin market is still reeling from the ETF decline last week, and it's got markets a little jittery.
Anyway, whatever happens near term, let's hope things pick up a bit. We've had some longer term support come in to play, so things can't be all that bad. It's just about getting some real momentum going forward, and we should see some volatility.
So, take a look at the chart below to get an idea of where things stand right now from a trading perspective.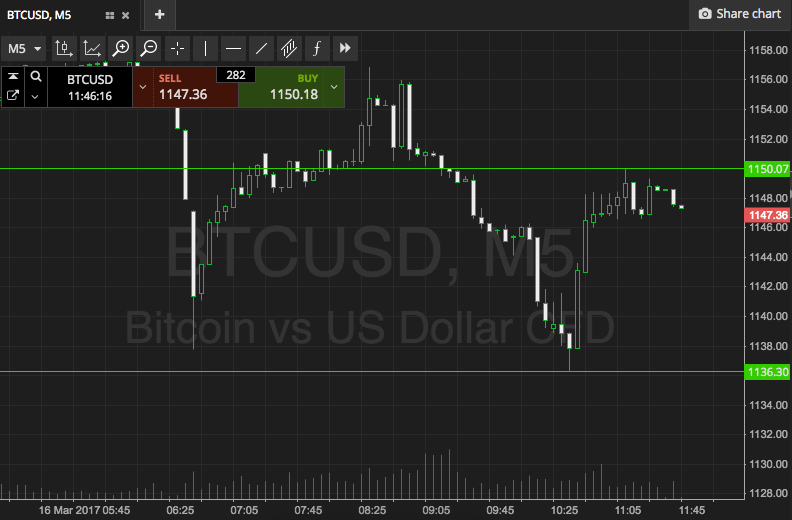 As the chart shows, the range we are going at today is defined by support to the downside at 1136, and resistance to the upside at 1150.
If price breaks through the former, we'll be watching for a close below it to get us in short towards 1125. Conversely, a close above resistance will put us in long towards an immediate upside target of 1160.
Let's see how things play out.
Charts courtesy of SimpleFX