It is Tuesday morning and we are about to kickoff a fresh day of trading in bitcoin price space. Things moved pretty fast overnight and we saw both a breaching of fresh highs as well as a pretty steep correction back down towards the 7000 level. Exactly how long this volatility will remain (we are sure to see some continued volume heading into the fork) is yet to be seen but one thing is for sure – price is well and truly enjoying a strong upside run and, even if we do see a correction, there is a good chance it will be short term and temporary as opposed to a longer-term reversal of the overarching bullish trend.
So, as we move into the session today, let's try and get some levels together that we can use to push forward into any added volume and to concurrently draw profit from the market as and when things move. As ever, take a quick look at the chart below before we get started so as to get an idea where things stand and where we are looking to jump in and out of the markets according to the rules of our intraday strategy. It is a one-minute candlestick chart and it has our key range overlaid in green.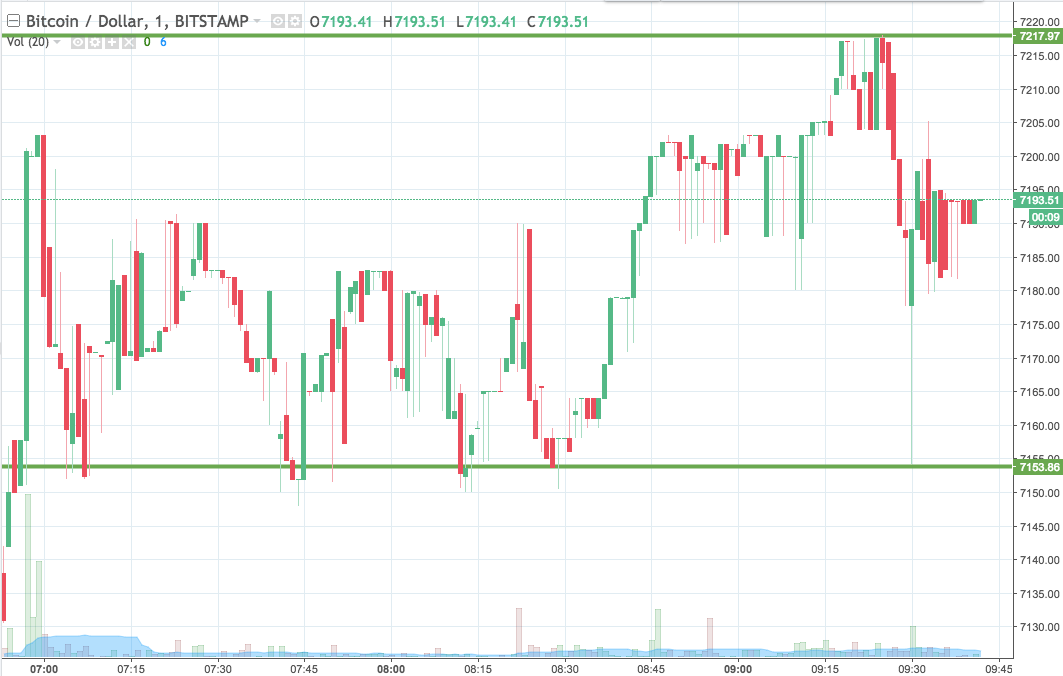 As the chart shows, the range we are using to set up against price for the session today comes in as defined by support to the downside at 7153 and resistance to the upside at 7217. We are going to stick with our breakout strategy for the time being, so we will look to enter long on a close above resistance towards an immediate upside target of 7260. Conversely, if we see a close below support, we will enter short towards a downside target of 7100.
Let's see what happens.
Charts courtesy of Trading View