So that's another day done in the bitcoin price, and it is time to take stock of what we've seen during the late European session and early US session, in an attempt to put together a strategy for use this evening. As we noted this morning, things haven't quite turned out as we expected over the weekend. Price broke through the level we had slated as long-term support, and this had the affect of altering our risk strategy. We set up against action with a circa $10 range this morning, and highlighted both the potential for our intrarange strategy and our breakout strategy coming into play. As it turned out, we managed to pick up a quick profit on the breakout side of the equation, and we're going to go forward with a very similar approach this evening.
So, as ever, get a look at the chart below in order to see where we are focusing our attention for the session, and where we will look to get in and out of the markets according to our intraday strategy tonight.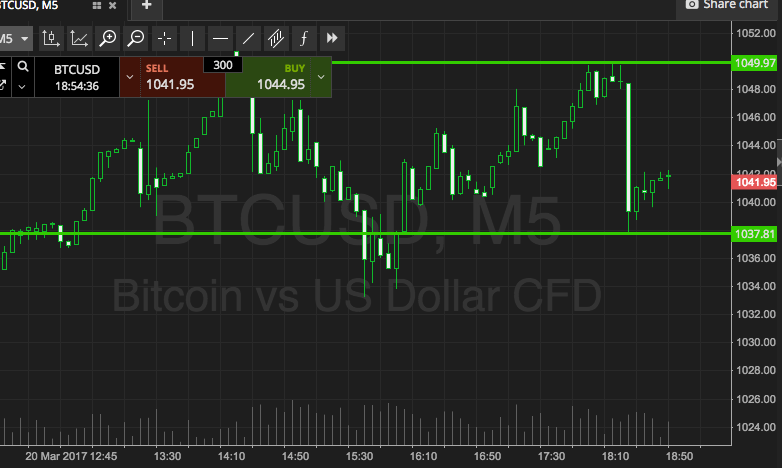 As the chart shows, our range for this evening is defined by support the downside at 1037, and resistance to the upside at 1049.
From an intrarange perspective, if we see a bounce from support, we will enter long towards a target of resistance. Conversely, a correction from resistance puts us in short towards a target of support. Looking at breakouts, a close above resistance will get us into a longer entry towards a target of 1059. A stop loss on the trade at 1046 defines risk nicely. Looking short, a close below support will put us into a short entry towards a downside target of 1025. Again we need a stop loss on the trade, and somewhere in the region of 1034 looks good.
Let's see how things play out this evening.
Charts courtesy of SimpleFX