Things are finally moving in the right direction. During the session today, the bitcoin price rose from somewhere in the region of $3700 late morning out of Europe to just shy of $4000 a piece at current pricing, shortly before the close of the European session on Monday.
If this momentum continues we will almost certainly see a breaching of the $4000 threshold that has proven pretty resilient over the last few weeks and, beyond that, we could see a bit of sustained upside as long positions entered and short trades are covered on stops being hit.
So, with this in mind, let's get some key levels in place that we can use to try and draw a profit from the market if and when we get any movement this evening. As ever, take a quick look at the chart below before we get started source to get an idea of where things stand and how price moved during the session today to bring us to current levels. It is a one-minute candlestick chart and it has our range overlaid in red.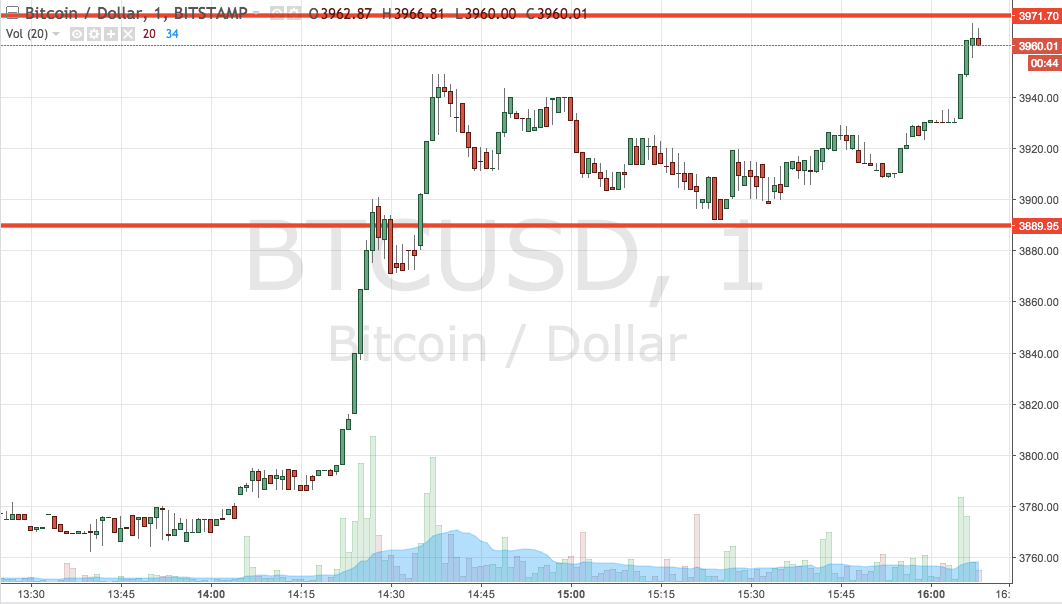 As the chart shows, the range we are looking at for the session this evening comes in as defined by support to the downside at 3889 and resistance to the upside 3971. We are going to look for a close above resistance to signal an upside entry towards an immediate target of 4030. A stop loss on this rate somewhere in the region of 3958 serves to define risk nicely. Conversely, and looking the other way, if we see a close below support, we will jump into a short trade with an immediate downside target of 3845. On this one, a stop loss somewhere in the region of 3900 will ensure that we are taken out of the position for not too large a loss if things turn against us.
Charts courtesy of Trading View