In this morning's bitcoin price analysis, we noted that price had spent the night last night in a corrective phase and that this correction would serve to clear out some of the shorter term operators in the bitcoin markets. We also noted that when we see a correction like this (and, importantly, when the correction is pinned back by a key level such as the 6000 mark we've been watching over the last few days) then it generally marks the beginning of a reversal in line with the overarching upside momentum.
Turns out we got exactly what we expected during the session today. The bitcoin price bottomed out in and around the time of our initial coverage and – subsequent to the intraday lows – quickly turned around and spent the remainder of the day steadily appreciating in line with the general bullish trend that we've seen across the last few weeks.
As we head into the late US session this evening, then, let's get some levels in place that we can use to (hopefully) take advantage of this current upside trend. As ever, before we get into the details of the positions we are looking to enter, get a quick look at the chart below. It's a one-minute candlestick chart and it's got our key range overlaid in green.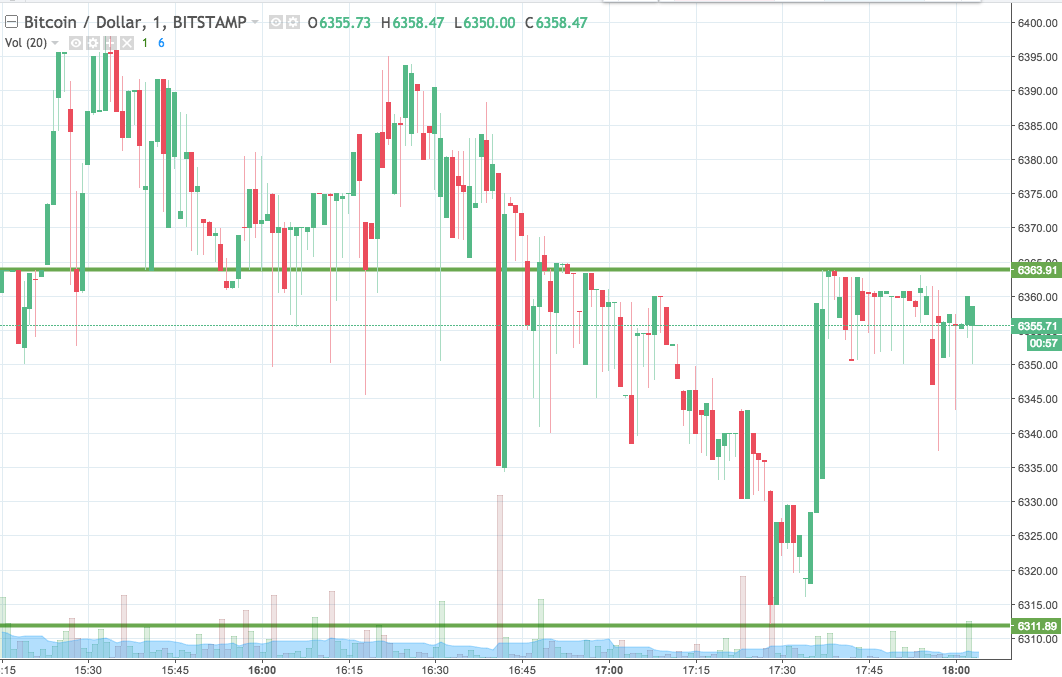 So, as the chart illustrates, the range we are going with this evening comes in as defined by support to the downside at 6311 and resistance to the upside at 6363. Standard breakout rules apply for the entries, so we'll try and jump in long on a close above resistance and short on a close below support. We'll target 6400 on the former and 6270 on the latter. Stop losses just the other sides of the entry points will ensure we're taken out of the trades if things turn against us.
Charts courtesy of Trading View