The bitcoin price has been all over the place over the last few days, with the weekend range hopping around between a few hundred dollars of space just north of the 7,000 mark. If things continue like this, it's going to get pretty tough to put together our target ranges as narrow as we normally like them, purely because of the fact that narrow ranges don't leave an awful lot of room for stop loss placement and this serves to undermine our overarching risk management strategy.
Anyway, all we can do is play price as we see it.
So, with this all noted, let's get some levels in place that we can use to push forward into the session this evening in an attempt to pull a profit from the market. As ever, before we get started, take a quick look at the chart below to get an idea what's on and where things stand. It's a one-minute candlestick chart and it's got our range overlaid in green.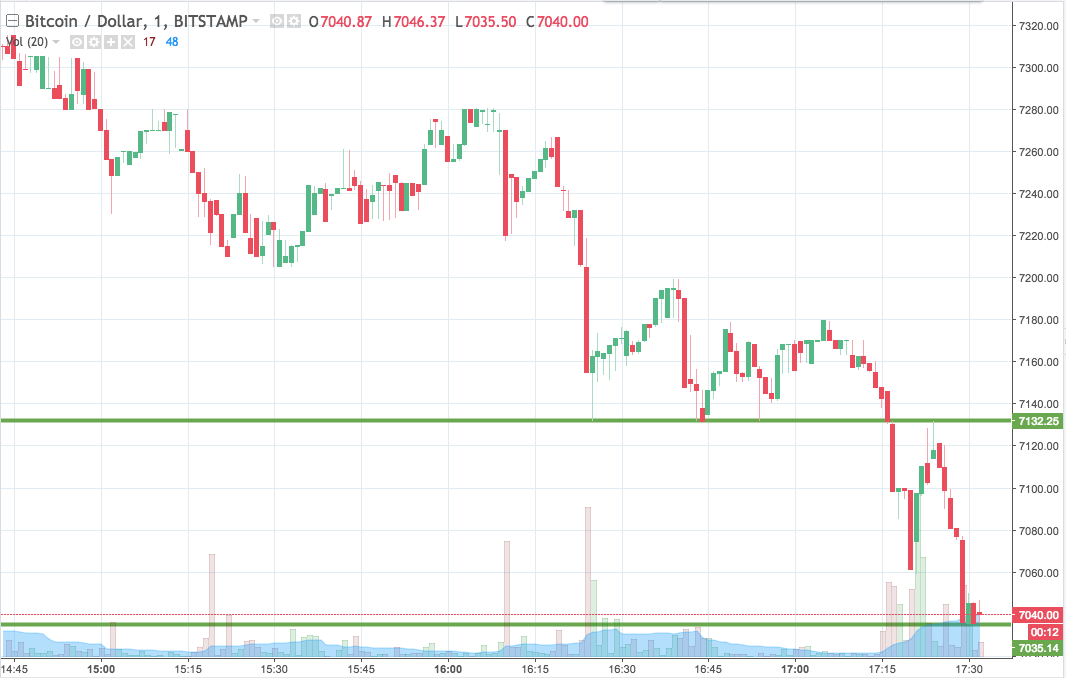 As the chart shows, the range we are using for the session this evening comes in as defined by support to the downside in and around 7035 and resistance to the upside at 7132. We are going to stick with our standard breakout strategy for the time being, so we will look at the following two entries as and when price dictates signals:
Our first trade will be a long entry on a close above resistance. On the position, we will target an upside target of 7180 and we will use a stop loss at 7100 to ensure we are taken out if things turn against us.
Our second trade will signal if we get a close below support. We'll enter short towards 6980 and a stop loss at 7055 will define our losses on the position.
Charts courtesy of Trading View