So we are off on a fresh day's trading here at NewsBTC HQ with intraday action the flavor of the day. Action over the weekend maintained much of the same volatility that we saw throughout the majority of last week, with price holding a relatively steady upward trend but some pretty sharp corrections tapering the aggregate gains for the Saturday and Sunday session.
With any luck, we'll see some similar action today. As we've noted on a number of occasions in the past, volatility is no problem so long as we protect our entries with a solid risk management system in place. We've built exactly that into our strategy, so we should be ok moving forward. It's frustrating to get a stop loss hit on an open position but – as we always say – it's better to be taken out for a small loss than it is to get caught on the wrong end of trend reversal against your primary bias.
So, with all this noted, let's get to the real action. We're going to go at price with just our breakout strategy today because things are a little too active to bring our intrarange efforts to the table. Before we get started, and as usual, take a look at the chart below to get an idea where things stand and how action to this point has gotten price to current levels. It's a one-minute candlestick chart and it's got our key range overlaid in green.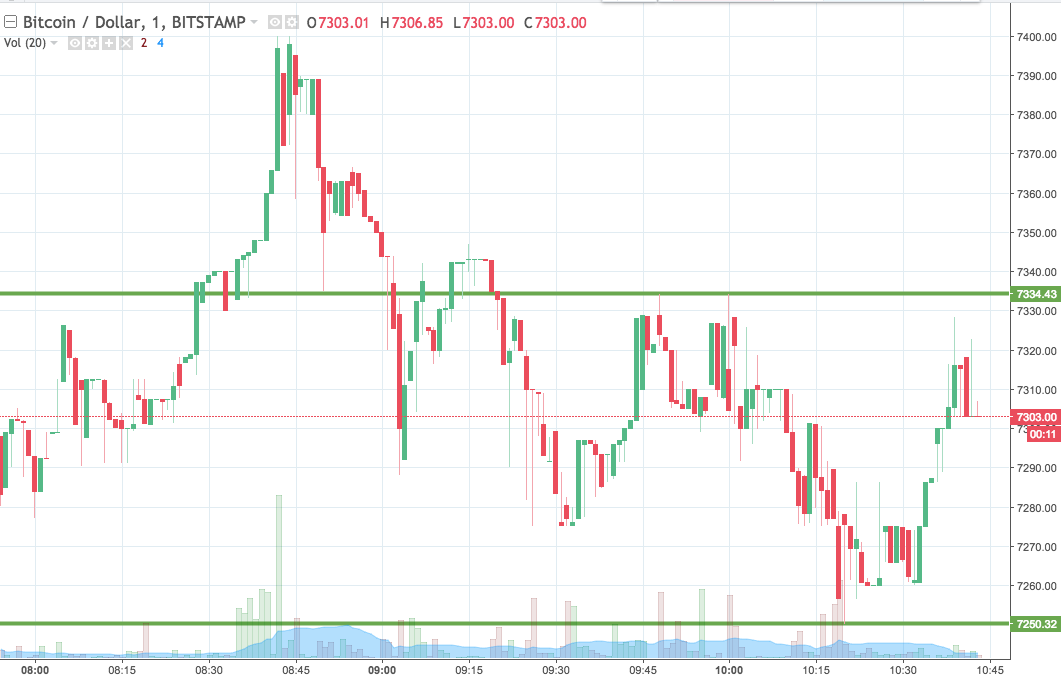 As the chart shows, then, the range we are looking at for the session today comes in as defined by support to the downside at 7250 are resistance to the upside at 7334. We are going to look out for a close above resistance to validate an upside entry towards a target of 7400. Conversely, if we see a close below support, we will jump in short with a downside target of 7190.
Let's see how things play out.
Charts courtesy of Trading View