Earlier this morning, we took a look at how the bitcoin price had moved throughout the session overnight last night, and noted that – while we still weren't above the 1100 level that we've been obsessing over for the last few days – price was on the way up, and we had managed to get into a couple of decent breakout trades on the action that we had seen throughout the night. We set up some key levels for this morning's session, and went into the day with expectations that the upside momentum would continue, and that we might see 1100 broken at some point during the day.
As it turns out, we were wrong.
Price has pretty much collapsed today to give back all of the gains recorded overnight, and we are heading into this evening's session trading in and around the levels at which we went into yesterday evening's session.
Exactly what this means going forward is unclear.
There's a chance we will get a repeat of last night's overnight action tonight, and that we will see a run up heading into the morning on Thursday. Of course, there's also a chance we won't.
Whatever happens, we'll be ready. Take a look at the chart below to get an idea of what we are focusing on this evening, and where we are looking to get in and out of the markets according to the rules of our intraday strategy. As ever, it's a five minute chart, and it's got our range overlaid in green.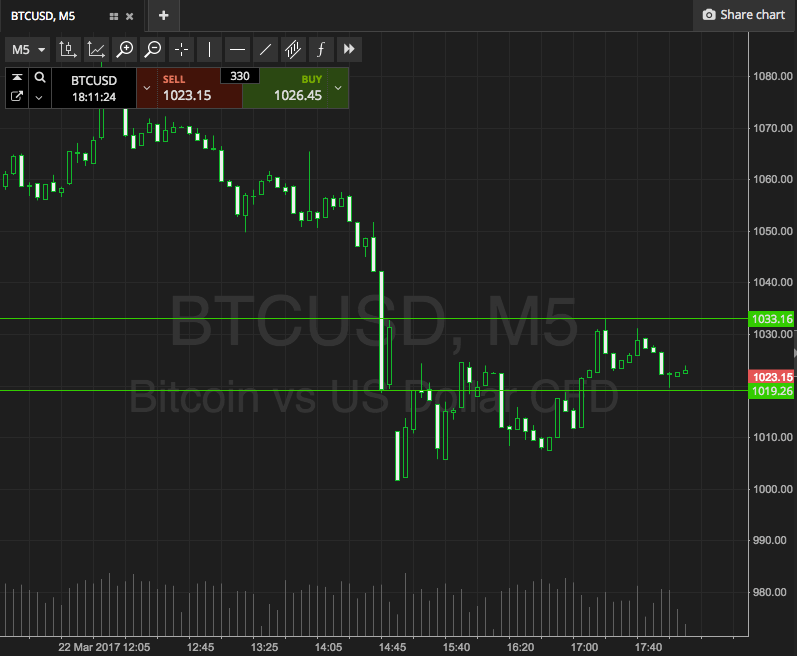 As the chart shows, the rang ewe are going with this evening is defined by support to the downside at 1019, and resistance to the upside at 1033. A close above the latter will get us in to a long trade with an immediate upside target of 1043. Conversely, a close below support will put us in short towards 1010.
Charts courtesy of SimpleFX