It is Tuesday morning, and time to try and figure out how we can draw a profit from the bitcoin price today. Things so far this week have been pretty flat, and those who yesterday's coverage will be aware that we didn't manage to get in or out of the markets on too my occasions because of said flat action. Overnight, however, we got a little bit more momentum, and finally saw a breakout early morning out of Europe. Price ran through our predefined resistance to the upside, and subsequently reached early morning highs around 943. We have since corrected a little bit to current levels (somewhere in the region of 938) but with any luck this is just a temporary correction, and we can get a return to the upside momentum once the European session kicks off properly.
So, with this in mind, and as we head into today's trading, here is a look at the levels we are focusing on, and where we intend to get in and out of the markets according to our intraday strategy.
Take a quick look at the chart below before we get started to familiarize yourself with the levels in focus.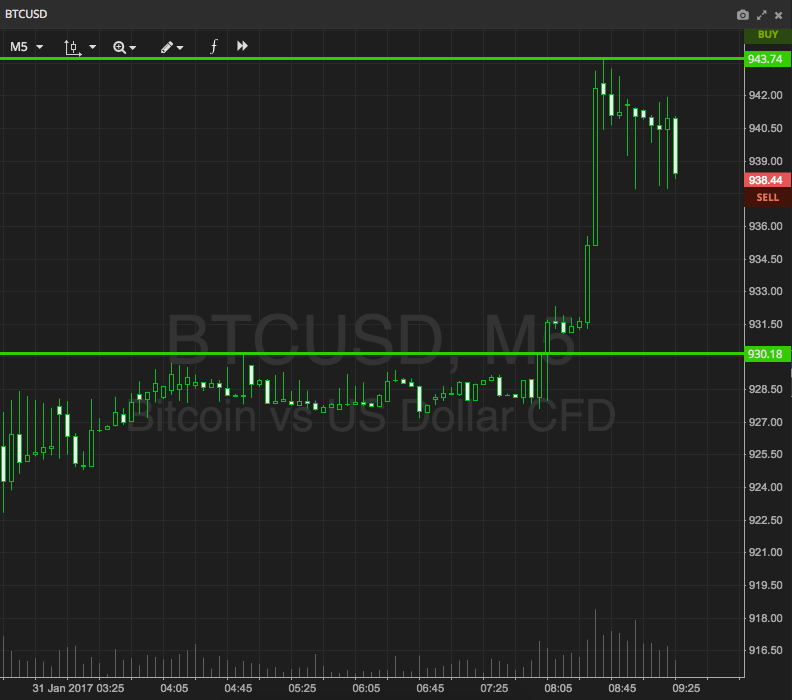 As the chart shows, the range we are focusing on for this morning is defined by support to the downside at 930 and resistance to the upside at 943. We will initially look for a break above resistance, and then a subsequent close above that level, to put us in a long trade towards an immediate upside target of 950. It's not a huge trade, so a relatively tight stop loss is required. Somewhere in the region of 940 looks good. Looking short, if we see price close below support, we will enter toward an immediate downside target of 920. A stop loss on this one at 934 will ensure we are taken out of the trade event of a bias reversal.
Charts courtesy of SimpleFX