So we are off on another week of trading in the bitcoin price and – with any luck – we are going to get a continuation of the sort of action we saw last week and during the weekend. Price has been incredibly buoyant over the last few days, having pretty much recovered the entirety of the lost strength that came on the back of the late June, early July decline. Right now, we're focusing on the 2800 and 2900 range as indicative of long term potential in this asset.
If we see price break through the latter and run up towards the 3000 level, there's a good chance that we will see a longer-term continuation of the upside momentum and – in turn – some considerable long-term strength. We may see a degree of resistance in and around this level purely based on its psychological importance, but a close above it on the daily charts would give us the confirmation we are looking for. Near term, things are slightly less concrete, but we are still looking to the upside as primarily indicative of our bias.
Specifically, we are going to outline a relatively tight range today with which we can go at price and see if we can incorporate this range into our intraday strategy and draw a profit from the market in doing so. With this in mind, then, take a look at the chart below before we get started to get an idea of what is on and where we are looking to get in and out of the markets according to our strategy. It is a one-minute chart and it has our key range overlaid in blue.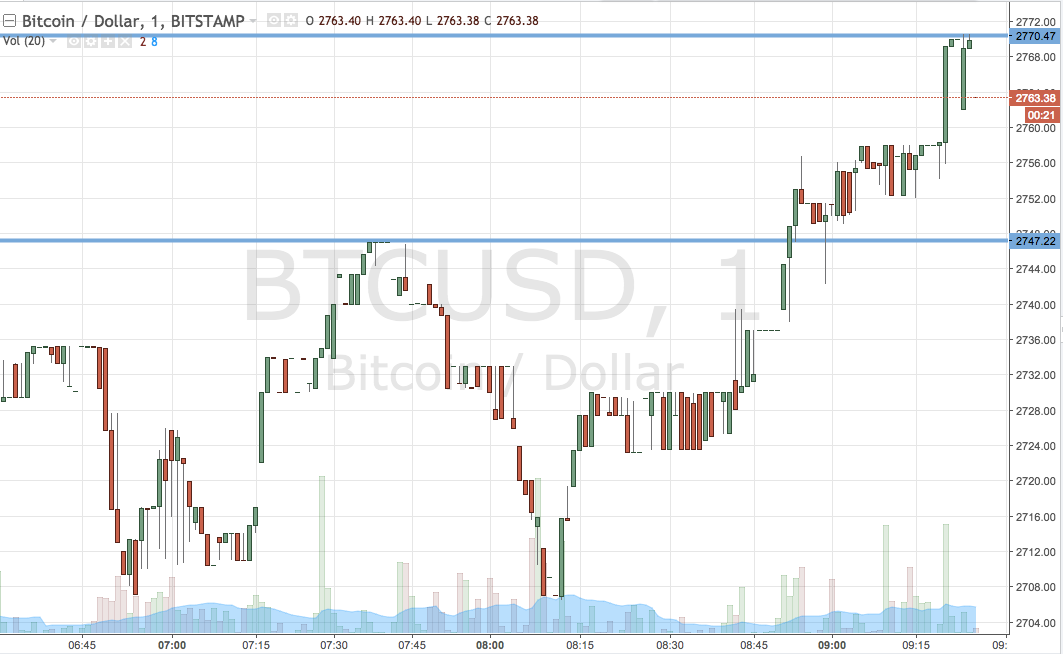 As the chart shows, then, the range we are looking at for today is defined by support to the downside at 2747 and resistance to the upside at 2770. A close above resistance will have us in long towards an upside target of 2795. Conversely, a close below support will get us in short towards 2720. A stop loss on both trades will ensure that we are taken out the position in the event of a bias reversal.
Charts courtesy of Trading View