So here's a look at what we're going to do in the bitcoin price today. We've had a pretty darn good week so far, with price serving up a great combination of volatility and upside momentum. In many ways, that's the perfect combination as it allows us to jump into plenty of breakout trades while also being able to stay in the trades for a sustained run.
If we get a continuation of this sort of action today, we can close out the week on a high.
Of course, if we don't then we can adapt our strategy to ensure we don't miss out on any potential opportunities just because we're focusing too much on ideal positions.
So, with this all noted, let's get some levels in place that we can use to jump in and out of the markets during the session today, whatever happens. As ever, take a quick look at the chart below before we get started. It's a one-minute candlestick chart and it's got our key range in green.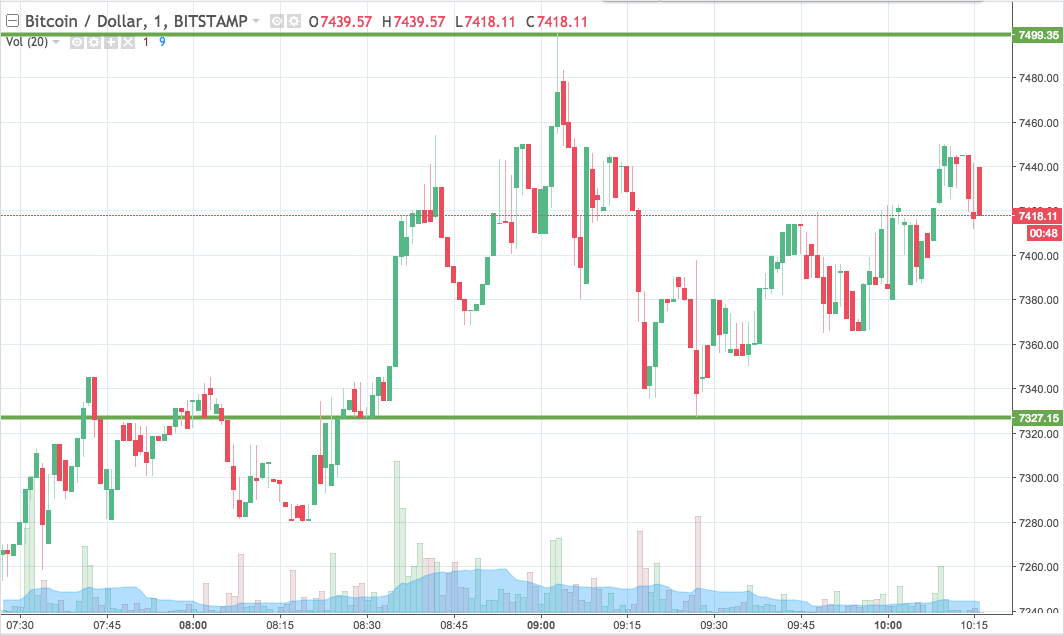 As the chart shows, the range we are going to use for the session today comes in as defined by support to the downside at 7327 and resistance to the upside at 7499. That's a pretty wide range that we've got for today, so we can use intrarange if we get an opportunity. Long on a bounce from support, short on a correction from resistance.
For our breakout strategy, we'll be jumping in long towards an immediate upside target of 7550. A stop on the trade at 7475 looks good.
Looking the other way, if we get a close below support, we're going to get in short towards a downside target of 7280. A stop on this one somewhere in the region 7345 will ensure we are taken out of the trade in the event of a bias reversal.
Charts courtesy of Trading View