It is now Thursday evening and we have come to the end of the European session in our bitcoin price trading efforts. In this morning's analysis, we discussed our hope that we would seek some degree long-term upside revaluation in the bitcoin price, ideally, this revaluation kickoff with a breakout at or near one of our predefined entry points.
Turns out, we didn't get what we wanted.
Well, not exactly.
We did see price break through one of our predefined entry levels and we were able to jump into the markets on a position that eventually through to our predefined take profit levels. However, it turned out to be a downside break and price basically spent the day declining against a backdrop of what we believed was an easing of sentiment.
Anyway, a winning trade is a winning trade.
Let's see what we can do going forward.
As ever, before we get started, take a quick look at the chart below so as to get an idea of where things stand. It is a one-minute candlestick chart and it illustrates the action as described above, with price falling to current levels around 3720 at the end of the European session.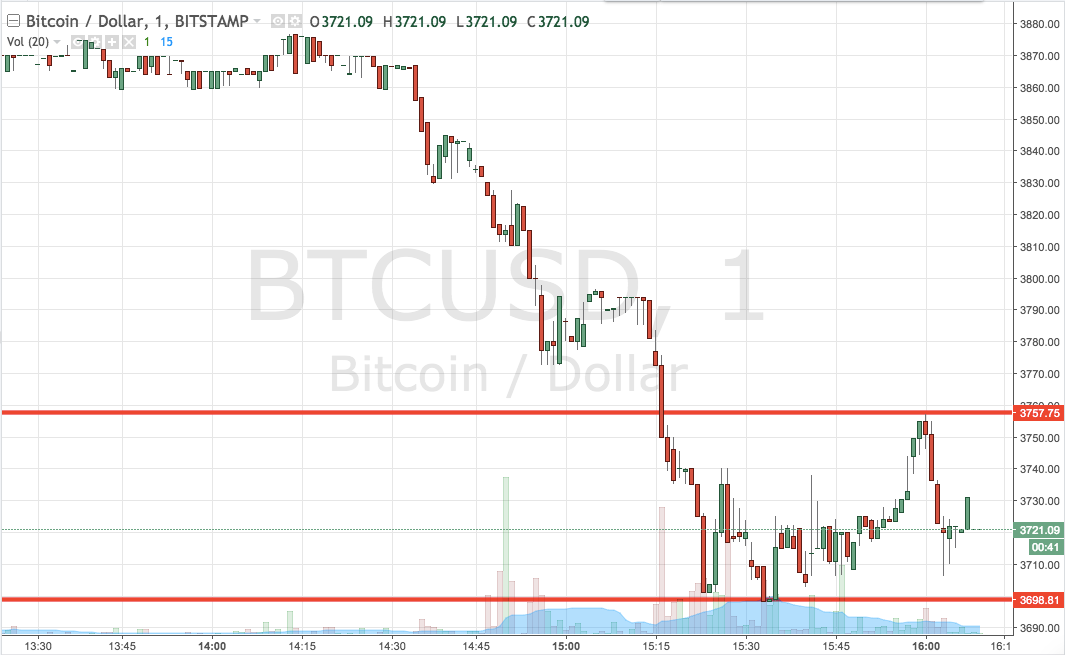 As the chart shows, the range we are going to use for the session tonight comes in as defined by its support to the downside at 3698 and resistance to the upside 3757. Standard rate rules apply now, meaning we will look to enter into a long trade (i.e. one to the upside) if we see a close above resistance. On this trade, we will target 3790 as a predefined exit level. Conversely, if we see a close below support, we will enter a short trade towards an immediate downside target of 3660. We need a stop loss on both trades just a couple of points the other side of entry looks good.
Charts courtesy of Trading View