So it is now Tuesday morning and we are about to kickoff the session out of Europe for another day's worth of bitcoin price trading. Things have been pretty volatile over the last few days and, subsequent to the cancellation of the hard fork, sentiment has struggled to find any sort of sustained upside shift.
This initially translated to some pretty sharp weakness, with price falling in around 20% from last week's highs over the weekend.
Whether the recent recovery is representative of a longer-term bottoming out of this decline and, in turn, a return to the overarching upside momentum that has dominated action across the last six weeks or so remains to be seen.
All we can do is set up against the market with our standard intraday approach and hope that we have an opportunity to jump in and out of the markets if and when things move.
So, with that noted, let's get some levels in place that we can use to try and draw a profit from any volatility in the bitcoin price during the European session today.
As ever, take a quick look at the chart below before we get started so as to get an idea where things stand. It is a one-minute candlestick chart and it has our range overlaid in green.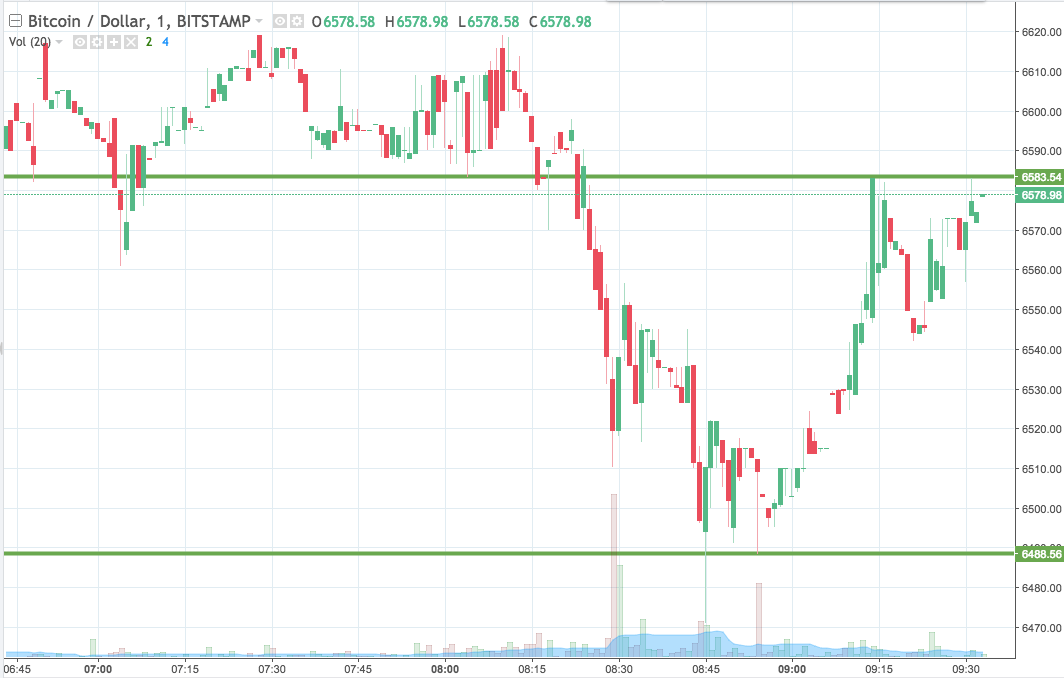 As the chart shows, the range that we are using for the session today comes in as defined by support to the downside at 6488 and resistance to the upside at 6583. We are going to look for a close above resistance initially to validate an immediate upside target of 6620. A stop loss at 6570 works well on the trade.
Looking the other way, if we get a close below support, we will enter short towards a downside target of 6440. A stop loss on this one at 6500 defines risk nicely.
Charts courtesy of Trading View