Regular readers will know that, through the mechanisms of our intraday strategy, we are able to profit from the bitcoin price moving without actually having to put forward any real forecast as to what might happen throughout the day (at least, that is, in terms of direction). With this said, however, we do sometimes make suggestions as to what we expect near term and it's always nice to see things play out exactly as we predict.
In this morning's analysis, we highlighted a couple of key levels and pointed out that we wanted to get straight into the detail as action looked as though it was set to break out to the upside near term.
As it turns out, we were spot on.
Price broke through our predefined resistance level almost immediately subsequent to our setting up our strategy and quickly ran through to the target we had set in place as an upside goal on the position.
Subsequent to our taking this profit, the price has remained at or around highs and it's looking as though we should see a continuation of the bullish action heading into the US afternoon and beyond.
So, in anticipation of things playing out as expected again, here are the levels we are focusing on in the bitcoin price right now.
As ever, take a quick look at the chart below before we get started.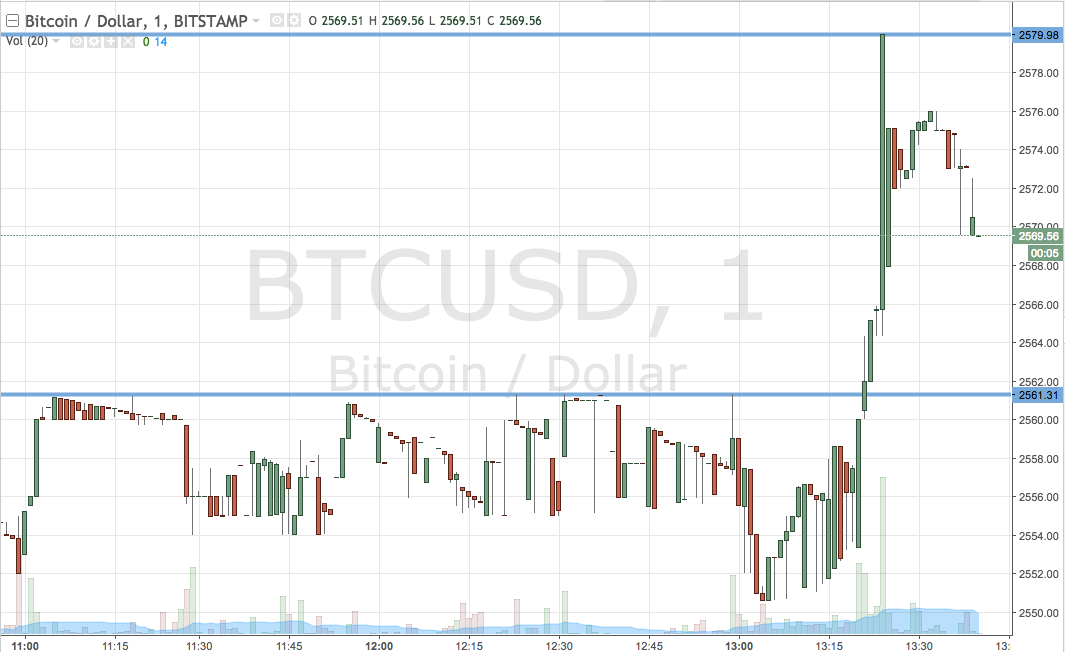 As the chart shows, the range we have in our sights this evening comes in as defined by support to the downside at 2561 and resistance to the upside at 2579.
If we see price break above resistance, we will get in long towards 2600. A stop loss on the trade at 2570 works to define risk. Conversely, a close below support on the intraday chart will signal a short entry towards 2530. A stop loss at this one again at 2570 will ensure we are taken out of the trade if things turn against us.
Charts courtesy of Trading View
SaveSave