In this morning's analysis, we noted that price hadn't moved much over the weekend, and that we were hoping for a little bit more volatility during today's session. When we get volatility, it gives us a chance to get into the markets on breakout entries, and these are generally the more reliable of our various entry methods. Intrarange can be great, but it is easy to get chopped out on intrarange trade. Breakouts – when we catch them right – are quick and easy profitable entries. Unfortunately, as action has played out today, we haven't really got what we wanted. The bitcoin price has remained encapsulated within the range we outlined earlier today, and as such, we haven't had any opportunity to get in on any breakout positions.
This means that – going forward – our range is relatively unchanged on the one we outlined earlier. For us, this isn't too much of a problem. Patience is always key in this sort of intraday trading, and the ability to maintain a range just makes it even more likely that – when price breaks out – we will see a sustained run. As far as writing about it is concerned, however, it makes things a little dull.
Oh well, that's something we're going to have to deal with.
So, take a quick look at the chart to get an idea of what is on this evening.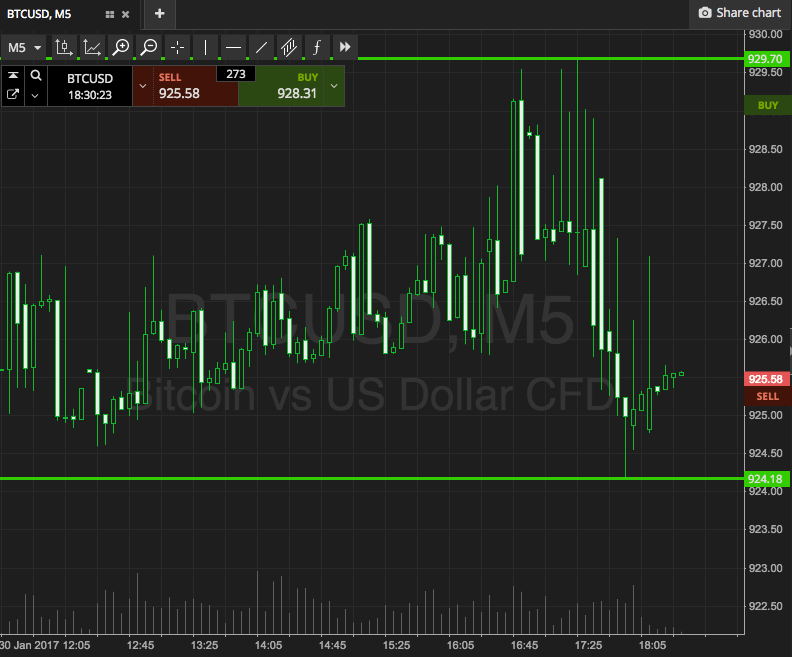 As the chart shows, the range we are looking at is pretty much the same as the one we defined this morning, with resistance coming in at 929 and support at 924. If we see price break above resistance, we will get in long towards 937. Conversely, a close below support will put is in short towards 915. A stop loss on both entries will ensure that we are taken out of the position in the event of a bias reversal.
Charts courtesy of SimpleFX