Things are starting to get interesting again in the bitcoin price. After what turned out to be a pretty heavy correction, we had a pretty solid bounce at the start of this week, and this bounce now looks to have turned into a full-blown recovery. The correction has been on our minds for quite some time now, with financial assets generally unable to avoid some degree of a downturn on the back of an upside one; especially one to the degree with which Bitcoin moved over the last couple of months. We did not expect the correction to be quite so severe, however (but, then again, we didn't really know what to expect), and we have had to use our breakout strategy as a sort of hedge strategy (as opposed to a pure profit strategy) whilst the correction matured. This isn't necessarily a bad thing – it could be worse, after all. However, it is good to get a return to the upside action and, with it, the ability to draw profit both from a long-term holding and a short-term momentum perspective.
With all that said, here is a look at what we are focusing on in the bitcoin price this morning and where we intend to get in and out of the markets according to the rules of our intraday strategy. As ever, take a quick look at the chart below before we get started.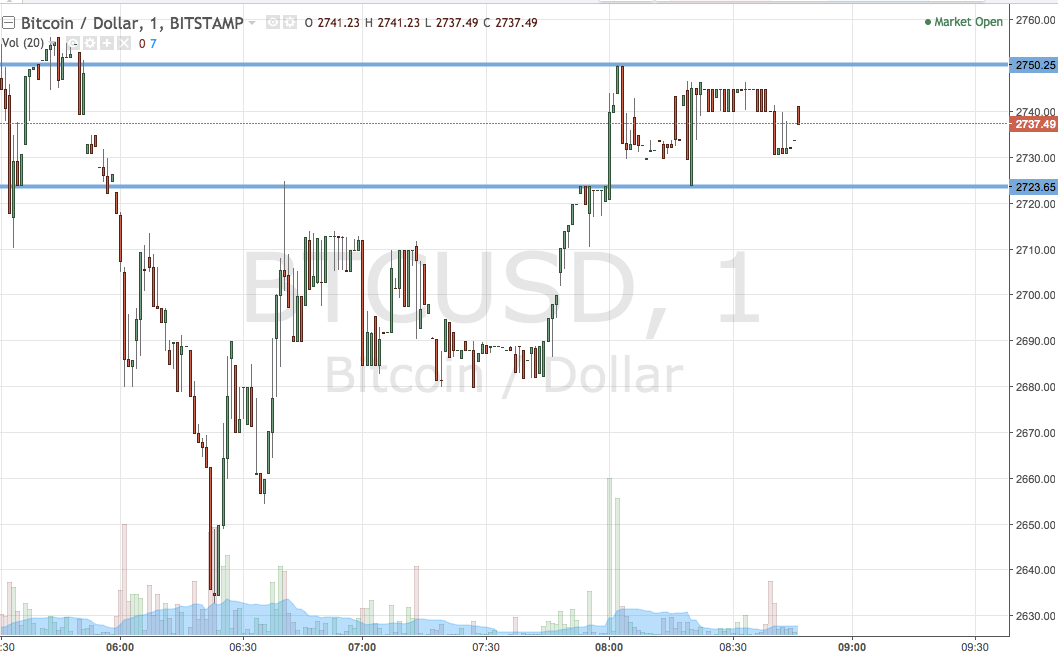 As the chart shows, the range we are focusing on for this morning's session is defined by support to the downside at 2723 and resistance to the upside at 2750. Standard breakout rules apply today, so we will initially look for a close above resistance to validate an immediate upside target of 2780. Conversely, a close below support will have us in short towards a downside target of 2700 flat. Stop losses on both positions will ensure we are taken out of the trades in the event of a bias reversal.
Charts courtesy of Trading View