The European session is about to draw to a close and, with it, our European efforts in the bitcoin price for the week. As we noted this morning, it has been a pretty wild week as far as volatility is concerned. Price served up plenty of entry opportunities, especially towards the end of the, and we were able to take advantage of a number of shifts in capitalization both during the European and US sessions.
The next few hours will bring with them a crossover period between Europe and the US, which is a time when volume generally increases and we see a boost in activity. Take this against the backdrop of an already considerable amount of volatility in the markets and we could be in for some pretty nice entry signals near term.
So, with that said, let's get some levels in place that we can use to try and draw a profit from the market if we get the volatility that we expect. As ever, take a quick look at the chart below before we get started so to get an idea of where things stand right now and how action during the European session today has brought us to current levels.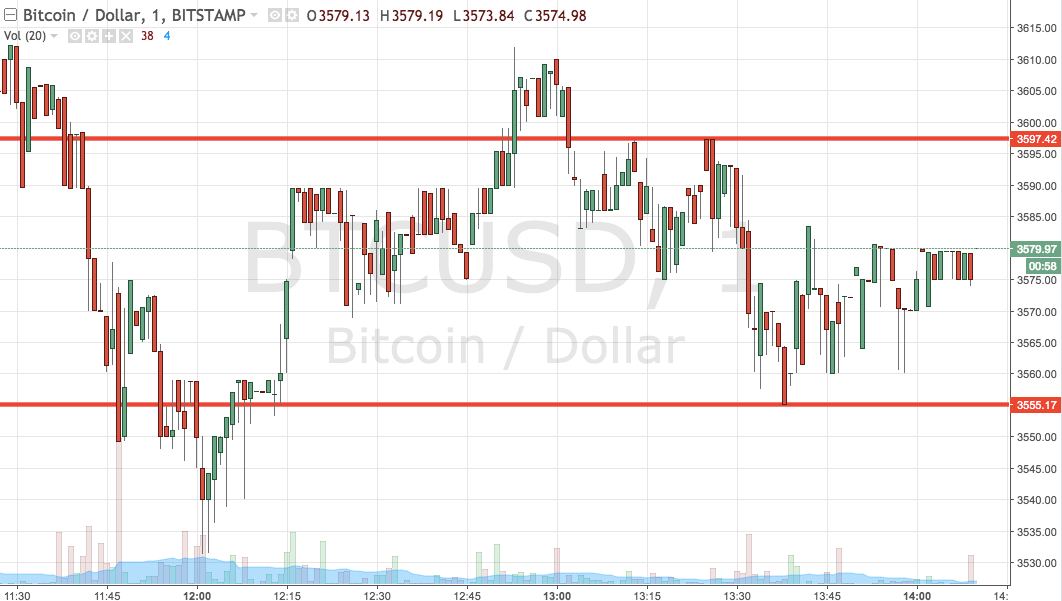 So, then, as the chart above shows, we have got a relatively tight range in play for this evening. Specifically, we are going to place support to the downside at 3555 and resistance to the upside at 3597. With around $40 worth of room to play with, we are going to stick to breakout as opposed to bringing intrarange to the table.
With that said, then, we are going to jump into a long trait if we see a price close above resistance with a target to the upside of 3635. Conversely, a close below support will have us in towards 3515.
Charts courtesy of Trading View