So there we go, another week out of the way in our bitcoin price trading efforts. Often, when we hit Friday evening, we are able to look back at the week and note much fun it's been jumping in and out of the markets, picking up profits here and there.
This week, that's very much not the case.
The bitcoin price has been something of a bloodbath.
We've seen a pretty severe correction on the run we saw over the last month or so and a fair chunk of the value appreciation has been given back to the markets. In this morning's analysis, we noted that the action that we saw overnight may be indicative of this correction bottoming out, and, in turn, a chance to realign our bias.
Action throughout the session today has pretty much allowed us to maintain this thesis. Well, to a degree. Price declined about throughout the session today and we saw intraday lows at around the 2400 flat mark. We think that if price can hold above this level, we should see the end of the downside run and a return to the overarching upside momentum.
That's the plan, anyway.
So, with this said, let's get some key levels put together with which we can go after the market this evening. As ever, take a quick look at the chart below to get an idea what's on and where things stand for the session today. It's a one-minute candlestick chart and it's got our key range overlaid in green.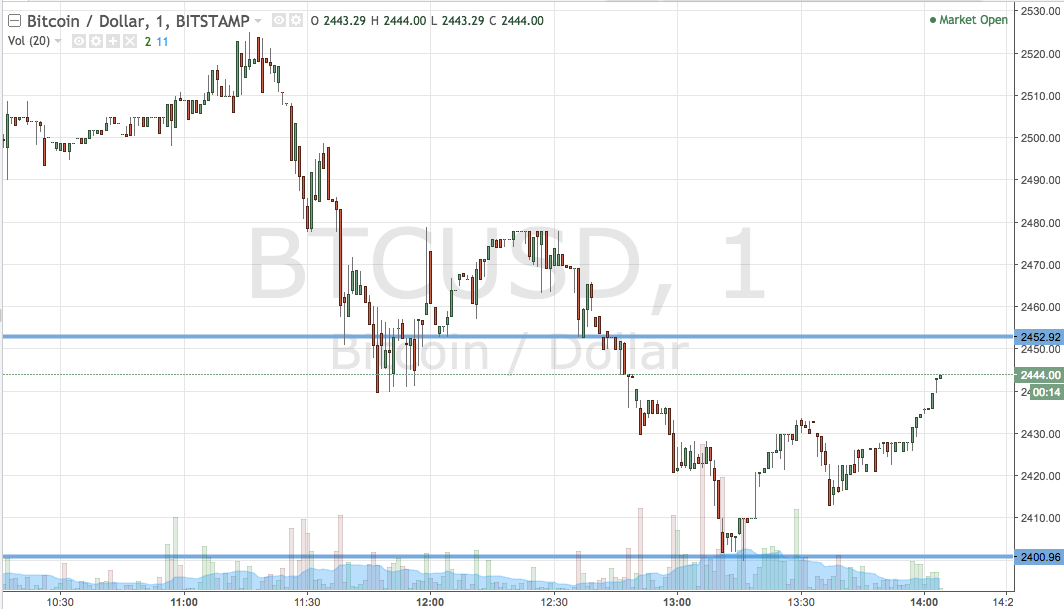 As the chart shows, the range we have in our sights for this evening's session comes in at support to the downside at 2400 flat and resistance to the upside at 2452. Long on a close above resistance towards 2475. Short on a close below support towards a downside target of 2375.
Let's see what happens.
Charts courtesy of Trading View