Bitcoin is currently flashing some notable signs of strength following the bout of weakness seen throughout the past couple of weeks.
The cryptocurrency is far outperforming the altcoin market, with both major altcoins like Ethereum and Chainlink – as well as smaller ones – all flashing signs of immense weakness throughout the past several days and weeks.
BTC's upswing amidst a turbulent and bloody market is the ultimate show of strength, indicating that investors still view it as the most reliable and safe digital asset during times of uncertainty within the nascent market.
One analyst observed that this recent upswing came about shortly after an incredibly strong daily close posted by the crypto yesterday.
He notes that while the bearish momentum that was previously guiding it lower has grinded to a halt, and the benchmark cryptocurrency is now testing the neckline of a prior head and shoulders pattern.
Whether or not Bitcoin is able to break above $11,000 should provide significant insights into its near-term outlook.
Bitcoin Bucks Market-Wide Turbulence and Pushes Higher
At the time of writing, Bitcoin is trading up just over 1% at its current price of $10,930. This marks a notable upswing from its recent lows of $9,900 that were set just last week.
It is important to note that these lows were tested on multiple occasions, which led many analysts and investors to believe that a break below them was imminent.
That being said, the cryptocurrency has since posted a strong $1,000 rebound from these lows, signaling that bulls aren't ready to cede control over its near-term trend.
It now appears that where the cryptocurrency trends next may depend somewhat on its continued reaction to $11,000, which happens to be where it faces some strong resistance.
A strong and decisive break above the lower-$11,000 region would significantly bolster the asset's near-term outlook.
BTC's Latest Daily Close Strikes a Blow to Bears' Momentum
While speaking about Bitcoin's near-term outlook, one analyst observed that the daily close above $10,500 has muddied the waters as to the crypto's near-term trend.
He notes that in order for bulls to take full control, it is imperative that they shatter the neckline of its previous head and shoulders pattern – which sits at $11,000.
"Bitcoin – daily close above the most critical support area of 10.5k really muddies the waters. Bear momentum most certainly slowed down now, leaving mostly a chop range from 10.5k to the prior HnS neckline of 11k," he stated.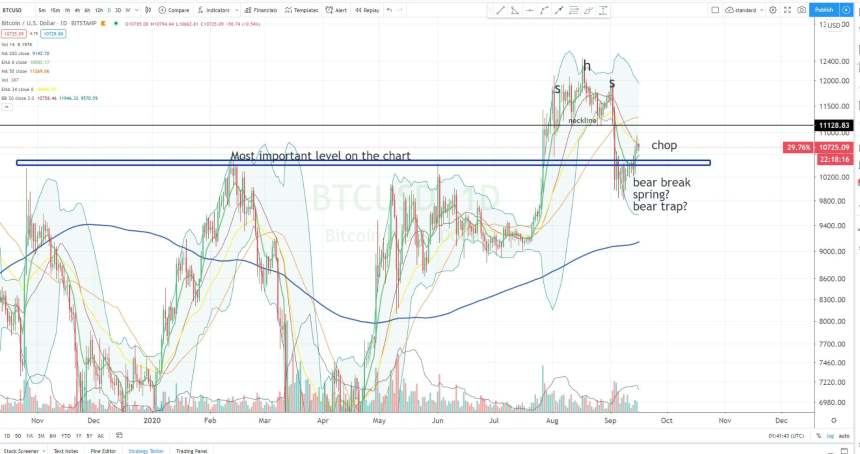 Featured image from Cheds. Chart via TradingView.
How Bitcoin trends throughout the coming few days should offer insights into the mid-term outlook of the aggregated crypto market.
Featured image from Unsplash.
Charts from TradingView.