Bitcoin has been pressing higher over the past 72 hours as the U.S. dollar finally began to lose traction after a relief rally. The leading cryptocurrency currently trades for $11,350, a price far above the weekly lows around $10,400. At the highs seen on Friday evening, BTC traded almost as high as $11,500 — a pivotal resistance level in the near term.
Analysts say that the cryptocurrency still has crucial resistance levels above the current price. One analysis suggests that Bitcoin must confirm $11,850 as support in the near future to corroborate expectations of further upside.
Bitcoin Should Clear $11,850 In the Near Future
Crypto data firm Whale Map reports that there is crucial on-chain resistance for BTC at $11,850, where whales acquired a large number of upsent Bitcoin.
Bitcoin is currently sitting above the first important resistance at $11,288 but faces this overhead resistance.
For BTC to confirm its ongoing trend, it should retake and retest both $11,288 and $11,857 in the coming days. Bitcoin doing so could allow it to surge above the summer highs set around $12,500 in the middle of August.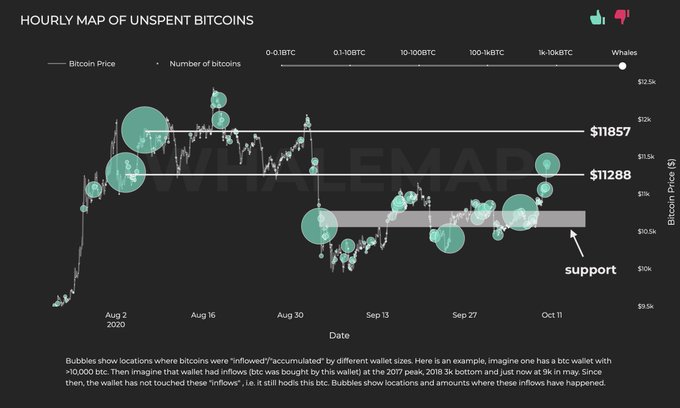 Chart of BTC's price action since the end of July with on-chain unspent BTC analysis by crypto data firm Whalemap (@Whale_Map on Twitter).
Sell-Side Liquidity Crisis to Send BTC Higher
Analysts think that trends in Bitcoin's sell-side liquidity could drive prices higher over time. The head of technical analysis at Blockfyre, a crypto research firm, recently stated on BTC's potential to move higher due to suppliers purchasing coins on the open market:
"A few thought on BTC here: 1. The float is being absorbed 2. The suppliers who introduced supply could be caught off sides and need to pick inventory back up 3. Each subsequent company will have to buy from a lower supply pool. We need a HH on 1D to confirm. Conditions are there," he said.
Another analyst noted with eleven publicly-traded funds and companies owning 11% of the supply of BTC, a sell-side liquidity crisis could take place where an increasing number of buyers will dramatically push Bitcoin higher.
Just this past week, leading fintech company Square purchased $50 million worth of Bitcoin with 1% of the assets on its balance sheet. Many saw this as a validation of the cryptocurrency space while others saw this as a clear accentuation of BTC's scarcity.
Photo by Shawn Ang on Unsplash
Price tags: xbtusd, btcusd, btcusdt
Charts from TradingView.com
$11,800 Is the Crucial Bitcoin Level to Be Watching Moving Forward