Bitcoin has shot around $1,500 higher over the past week, reaching a weekly high of $13,200. The price of the leading cryptocurrency has dropped slightly to $12,900 as of this article's writing, just shy of the highs and the pivotal $13,000 resistance level.
This recent move higher caught many traders off guard. During one day this week, over $300 million worth of Bitcoin short positions were liquidated, along with some long positions amid some volatility.
Three Reasons Why Bitcoin Is Moving Higher
Crypto-asset lender Nexo released a report this week postulating as to why Bitcoin moved seriously higher this past week. In the past seven days, the leading cryptocurrency has shot $1,500 higher.
Nexo gave three reasons why the cryptocurrency has done so:
Firstly, analysts say that the global markets are pricing in a democratic win for the Presidential Election of 2020. Analysts say that this will ensure that there is more fiscal stimulus coming, which will result in the devaluation of the U.S. dollar and a relative rally in the price of Bitcoin. The firm wrote on the matter: "First, the 'Blue Wave' narrative of a Democrat sweep in US elections has many of us thinking that a lot more fiscal stimulus and money printing are coming, boding well for currency hedges."
Secondly, more institutional capital continued to flood into Bitcoin and this market this past week. U.K. fintech company Mode revealed it would deploy some of its cash into BTC. Also, Grayscale Investments shared it has seen massive institutional investment after already reporting a record quarter of over $1 billion in investment.
Lastly, PayPal confirmed its support of cryptocurrencies this week with an intent to support the purchase and sale of top coins like Bitcoin, along with digital asset payments. There are also rumors that the company is looking to acquire crypto firms, namely BitGo.
Technical Trends Also Bullish
The technical trends are also bullish.
One crypto-asset analyst that predicted BTC would see a V-shaped reversal amid the brutal March crash shared a chart showing that Bitcoin formed its highest daily candle close since January 2018.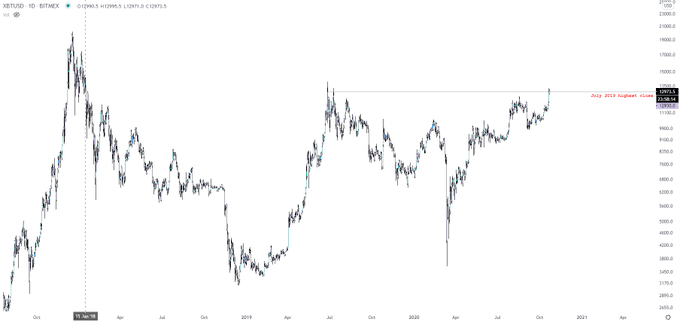 Chart of BTC's price action since the middle of 2017 with analysis by crypto trader Bitcoin Jack (@Btc_JackSparrow on Twitter). Source BTCUSD from TradingView.com
Featured Image from Shutterstock
Price tags: xbtusd, btcusd, btcusdt
Charts from TradingView.com
3 Crucial Reasons Why Bitcoin Shot $1,500 Higher This Past Week