Bitcoin has undergone a strong rally over the past few days as the coin has continued to see vast buying interest. The coin pushed as high as $18,500 last evening, though quickly dipped back into the $17,000 region as selling pressure suddenly appeared. There was a vast amount of selling pressure on the order books of top exchanges at $18,500.
Analysts believe that a deeper drop for Bitcoin is on the horizon, even as it manages to hold the low $17,000s. Bitcoin should hold $17,100 on a daily basis to maintain the uptrend, some have said over the past few days.
Bitcoin Could Face a Dip, Says Historically Accurate Analyst
The same trader that predicted Bitcoin would see a V-shaped reversal to $10,000 and beyond during the March crash recently said that a drop is somewhat inevitable for the cryptocurrency:
"My work here is done I sincerely hope we reach ATH, as I will lay off more spot exposure and load up on dry powder to consume a dip It will come eventually, the question is, will you be ready for it?"
He predicted the move to $18,200 a number of days ago in a chart that indicates a drop to $15,000 is likely.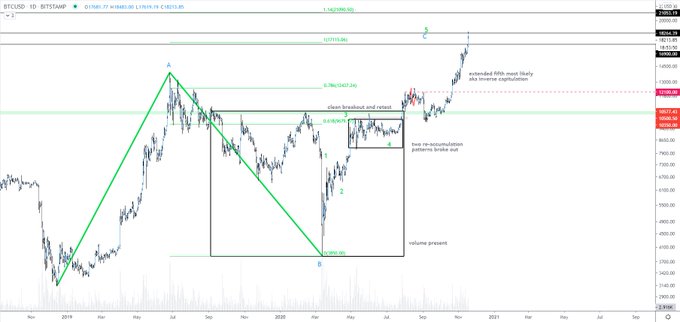 Chart of BTC's price action over the past few years with an analysis by crypto trader Bitcoin Jack (@BTC_jackSparrow on Twitter). Source: BTCUSD from TradingView.com
Long-Term Trend Still Positive
The long-term trend of Bitcoin remains positive despite whatever downside may exist in the short term.
Willy Woo, a prominent cryptocurrency on-chain analyst, recently said that the Realized Price of Bitcoin is shooting higher, which is good for its trajectory:
"Realised Price estimates the average price the market paid for their BTC. Now at its steepest slope for this cycle, meaning capital influx into #Bitcoin is at its highest rate since the last bull market. (Higher than last year's $4k-$14k move; the current move is more organic.). For the sake of this comment I'll define "organic". Organic price action happens when BTC price tracks closely with investor capital entering and leaving. When it's inorganic BTC price is dominated by short term derivative traders."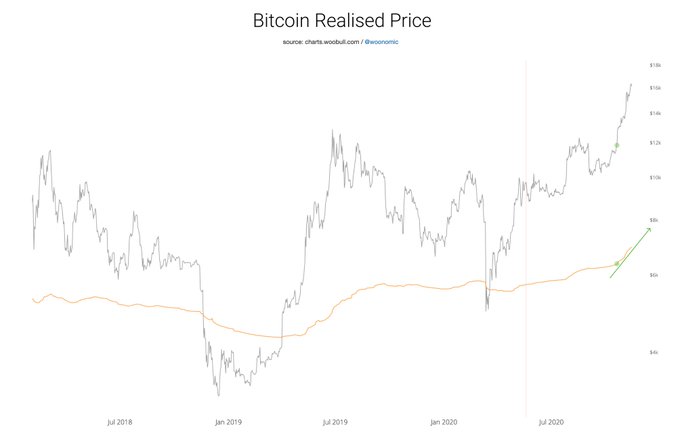 Chart of BTC's price action over the past few years with a realized price analysis by crypto analyst Willy Woo (@woonomic on Twitter).
There are other on-chain trends that signal Bitcoin will move higher.
Featured Image from Shutterstock
Price tags: xbtusd, btcusd, btcusdt
Charts from TradingView.com
Analyst Who Called March's V-Shaped Reversal Says Bitcoin Dip Is Inevitable