Bitcoin price is now up $6,000 from yesterday's low in a flash. A long wick below support is now left behind, forming a Japanese candlestick formation called a dragonfly doji. With a large follow through by crypto bulls already, a daily close above $36,000 could leave a reversal pattern behind on the charts.
But to how high might the once trending cryptocurrency climb if it can find a bottom? And is this a dead cat bounce, or the full recovery back into a bull market the masses are waiting for?
Will A Dragonfly Doji On The Daily Let Bitcoin Fly Again?
Although so many investors in cryptocurrencies are quick to write technical analysis off as witchcraft or little more than a guessing game, there is a real technique to it.
When done properly, there are strict rules to follow that confirm signals along with statistics that show what type of results to expect from the behavior. Studies have been done on chart patterns, indicators, and more – all the way down to the candlestick.
Related Reading | What The Last Leg Up In The Bitcoin Bull Market Could Look Like
The study of Japanese candlesticks is as basic as it gets, but that doesn't discount its effectiveness. The open, close, low and high of each candle can provide all kinds of information about the market and what to expect.
For example, the dragonfly doji on Bitcoin daily charts by itself is enough to suggest a reversal is finally here. And with bullish follow through today, a more prominent reversal pattern is also forming.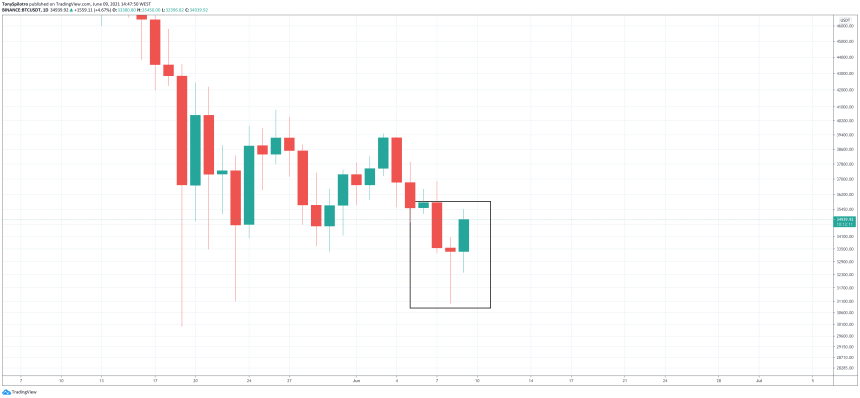 A dragonfly doji could lead to the completion of a reversal pattern | Source: BTCUSD on TradingView.com
What The Reversal Pattern Could Mean For Crypto
With a dragonfly doji pattern on the daily, and a TD 9 buy signal on the weekly timeframe, Bitcoin bulls just need to hold on until Sunday night's weekly candle close and a reversal will look a lot more likely.
The above mentioned dragonfly doji is the center-point of a morning star reversal pattern in the making. If bulls can close today's daily candle and follow through into tomorrow, a more extensive move higher is likely.
Related Reading | Time To Pay Attention: Bitcoin Indicator Behavior Mimics Historic Rally
Resistance at $40,000 and $48,000 both could be potential stopping points before $50,000 is reclaimed. Above $50,000 should result in a retest of previous highs and if those are breached, then the bottom of this bull market correction will be set at $30,000.
At that point, it would be time to turn back toward trying to catch the top of the market cycle, wherever that ends up being. And it all could start with a dragonfly doji on daily timeframes.
Featured image from iStockPhoto, Charts from TradingView.com