Bitcoin is erupting higher once again after managing to pass $17,000 just hours ago earlier this morning. It appears that the cryptocurrency is entering the "blow-off top" phase of the market cycle, surging hundreds of dollars higher over the span of a few hours.
At the local peak, Bitcoin traded for $17,750, though now trades for $17,600 after a slight retracement. It is unclear if the cryptocurrency will continue its ascent in the hours ahead as the momentum seems to have paused for the time being.
Chart of BTC's price cation over the past few hours from TradingView.com
Further Upside Possible for Bitcoin?
Analysts expect further upside as Bitcoin continues to move above pivotal macro resistance levels amid this rally. Josh Rager, a crypto-asset analyst, recently commented on the cryptocurrency:
"Bitcoin is shredding each resistance on the daily and high time frames With a close over $17,150, the next major daily/weekly resistance would be at $18,953 to $19,187."
He is telling his followers to keep an eye on the cryptocurrency's daily close, which will be upcoming in the hours ahead. It managing to close its daily candle above $17,150 as he writes will likely trigger further upside, he suggests.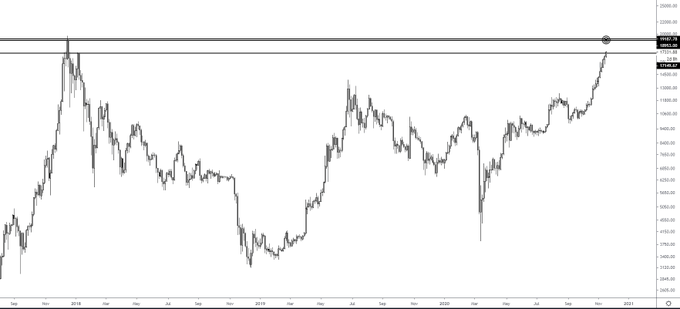 Chart of BTC's price action over the past few years with analysis by crypto trader Josh Rager
Bitcoin is primed to move higher as the cryptocurrency continues to see rapid institutional inflows from prominent fund managers on Wall Street.
Price tags: xbtusd, btcusd, btcusdt
Charts from TradingView.com
Bitcoin Erupts to $17,750 as Buying Pressure Floods In