Following what is described as an "epic bear trap" to $16,400, Bitcoin has officially set a fresh all-time high.
The benchmark digital asset has never traded as a price this high on the spot market before, with bulls now trying to push it above $20,000. It does appear to be facing some resistance as it navigates into this price region, with bears ardently attempting to fade the movement.
Regardless of whether they are successful, the cryptocurrency's historic move higher this morning will likely market a macro turning point for BTC and the entire crypto market.
Once $20,000 is broken above, there's a strong likelihood that it will enter price discovery mode and see some serious upside. Parabolic advances like the one it is currently caught within often end in an asset's price multiplying, which could mean that this is just the beginning of a much larger move.
One trader is now noting that BTC could be well-poised to see some immense upside in the near-term, with the latest decline simply being a bear trap that cleared out over-leveraged long positions and reset the sentiment surrounding the crypto.
Bitcoin Explodes Towards $20,000; Sets Fresh All-Time Highs
At the time of writing, Bitcoin is trading up just over 7% at its current price of $19,500. This marks a slight decline from highs of $19,800 that were set just a few minutes ago.
These highs marked fresh all-time highs for spot BTC, but it does appear that bears are putting up a defense of the upper-$20,000 region.
Typically, once an asset sets fresh all-time highs, it enters a price discovery mode that leads it to see significantly further gains.
This will likely take place for BTC once $20,000 has been firmly broken above and established as a support level.
BTC Rallies on the Heels of an "Epic Bear Trap"
A few days ago, Bitcoin's price reeled from the mid-$19,000 region to lows of $16,400.
This shifted the market's sentiment and led many investors to believe that BTC had posted a local top.
One analyst spoke about this move in a recent tweet, calling it an "epic bear trap"
"BTC: Bitcoin price crushing the daily high. Yeah, that move down to $16k was an epic bear trap to try and shake people out before $20k."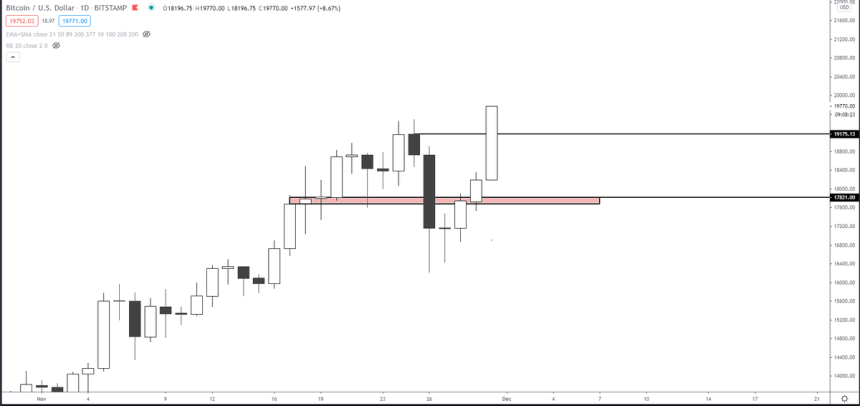 Image Courtesy of Josh Rager. Source: BTCUSD on TradingView.
The coming few days should provide insights into Bitcoin's macro-outlook. Whether or not it can break above $20,000 and flip this into support will likely determine how it trends into the end of the year.
Featured image from Unsplash.
Charts from TradingView.