Bitcoin price is currently trading at a substantial premium on South Korean crypto exchanges – more than $6,000 per coin in USD equivalent. However, in the past this so-called "Kimchi Premium" has signaled the end of the bull trend.
Is this a sign that things  across the crypto market could soon turn bearish? Or is there something else afoot going on with the US dollar and the South Korean won that is causing the discrepancy?
Bitcoin FOMO Comes To A Boiling Point In South Korea, According To Price Premium
Bitcoin is an asset unlike anything else in the world before it. There's no company involved like stocks; no country like fiat currencies; nor does it have a physical form like a commodity.
Because the decentralized cryptocurrency technology is controlled by no state actor, the underlying asset could some day become the first non-sovereign global reserve currency.
Related Reading | Mathematical Mystery: Why Did The Bitcoin Rally Stop At The Golden Ratio?
The crypto market like these other assets, however, also trades globally, and is subject to deviations in price data depending on how aggressive one region's currency is being exchange to buy up BTC.
Once again, crypto FOMO has taken hold in the country of South Korea, resulting in the return of something called the "Kimchi Premium."
The Kimchi Premium has Bitcoin priced nearly $6,000 higher in South Korea | Source: BTCUSD on TradingView.com
The Return Of The Kimchi Premium Could Spell Danger For The Ongoing Crypto Bull Run
The chart above demonstrates the sizable deviation between BTCUSD and BTCKRW. The discrepancy is roughly $6,000 USD currency and climbing. The crypto community has dubbed this unusual phenomenon the "Kimchi Premium."
Related Reading | Heads Up: Bearish Bitcoin Technical Pattern Shouldn't Be Shrugged Off
It isn't clear what's causing such FOMO amongst South Korean investors, but the so-called premium hasn't been around since the last week of 2017.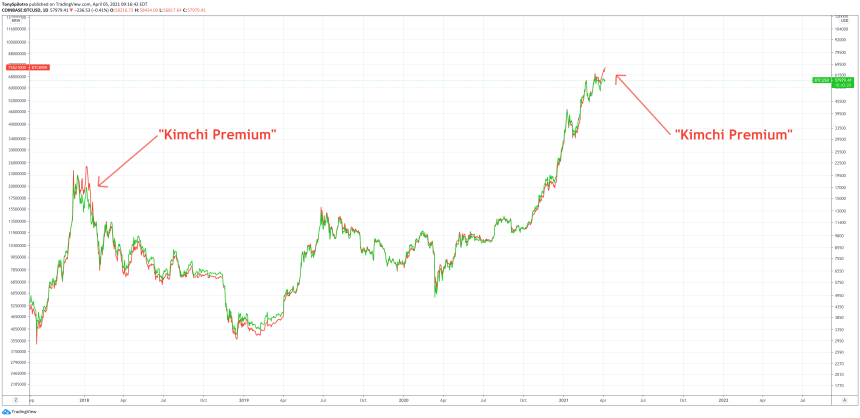 The last time the Kimchi Premium was so prominent, it was the peak of the last bull market. | Source: BTCUSD on TradingView.com
Zooming out, the last time the Kimchi Premium moved away from the standard BTCUSD ticker priced in dollars, that was the grand finale for the previous bull market.
While the USD trading pair made lower highs, the KRW trading pair made another higher high before together falling into the 2018 bear market. Thus far, the premium has never been used as a signal to take action, as historically, it hasn't appeared often enough to take action on.
But its existence is undeniable, nor what came after the two country's Bitcoin price tickers separated by this much in the past. Whatever the case may be, the Kimchi Premium should be something to pay close attention to for the near future.
Featured image from Deposit Photos, Charts from TradingView.com