Bitcoin has seen some turbulence throughout the day as a result of its break below $40,000
This level has long held as support, but the lack of intense buying pressure throughout the day has allowed bears to push it below this level
Bitcoin is now sliding lower, with bulls being unable to grasp firm control of the cryptocurrency's price action
One trader is now noting that where the market trends in the mid-term will likely depend on whether or not the crypto can guard against any intense decline in the near-term
While sharing his thoughts on where BTC might go next, one analyst offered a somewhat grim outlook
He explained that miners appear to be selling in heightened quantities, which could place significant pressure on the crypto
Bitcoin is currently trying to defend against an intense drop below $39,000, proving to be a slight support level for the cryptocurrency.
The intensity and speed of its decline appears to be picking up steam following the prolonged decline below $40,000. This was previously a strong support level for the crypto.
One analyst is now noting that miner selling pressure may place continued pressure on Bitcoin's price and cause it to see a slight downtrend in the short-term.
Bitcoin Plunges Following Break Below $40,000
At the time of writing, Bitcoin is trading down just over 5% at its current price of $38,200. This marks a notable decline from recent highs of $41,500 that were set under a day ago.
The crypto's early-morning break below $40,000 placed some serious pressure on it and caused it to see a decline that is rapidly accelerating.
Unless it can hold $38,000 as support, there's a strong possibility that it faces further selling pressure in the near-term.
Analyst: Miner Selling Pressure Behind Recent Correction
One analyst explained in a recent tweet that selling pressure from miners appears to be behind this decline.
He notes that he is flipping short on Bitcoin for the time being due to this trend amongst miners.
"Miner Position Index looks enough to make a local top. They're selling BTC. I'm going to punt a small short to scalp BTC in this short-term bearish market."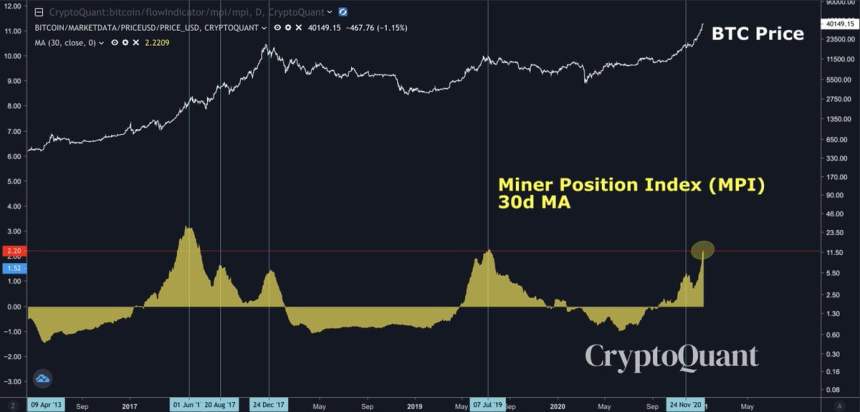 Image Courtesy of Ki Young Ju. Source: CryptoQuant.
The coming few days should provide investors with serious insight into whether these miner outflows will be enough to stop its uptrend.
Featured image from Unsplash.
Price data from TradingView.