Bitcoin has undergone a strong rally over the past few months. From the March lows, the cryptocurrency has gained over 200%, rallying from $3,500 to $11,700 now.
While already impressive, the coin is about to form a pivotal buying signal that may suggest more upside is likely. The signal in question last formed when the cryptocurrency was trading under $1,000 at the end of 2016, prior to the 2017 exponential rally.
Bitcoin Forms Pivotal Buying Signal
According to data from Crypto Quant shared by a crypto-asset analyst, Bitcoin is about to form a long-term buying signal. The signal is the Miners Reserve, which tracks the BTC reserves of entities tied to mining pools.
According to the chart, the indicator is poised to undergo a positive crossover, with the short-term moving average crossing below the long-term moving average.
This signal is important as it was last seen at the end of 2016, prior to Bitcoin's 2,000% rally in 2017. This signal also preceded two other macro rallies that brought BTC exponentially higher.
The same trader pointed to a swath of other on-chain trends showing that the long-term trend is favoring bulls.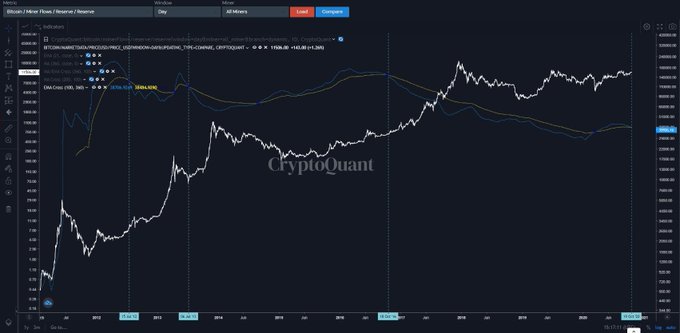 Chart of BTC's price action since the start of its trading around a decade ago with on-chain analysis by CryptoQuant. Chart shared by Coiner Yadox (Yodaskk on Twitter). Chart from CryptoQuant and TradingView.com
Fundamental Trends Favoring Bulls
Fundamental trends favor Bitcoin bulls, analysts say.
Macro investor Raoul Pal recently said in an interview with publication Stansberry Research that  Bitcoin is likely to reach a price of $1 million in the coming five years. He thinks that investment by institutional players will drive the cryptocurrency this far to the upside:
"Just from what I know from all of the institutions, all of the people I speak to, there is an enormous wall of money coming into this. It's an enormous wall of money — just the pipes aren't there to allow people to do it yet, and that's coming. But it's on everybody's radar, and there's a lot of smart people working on it."
Pal has said that he thinks Bitcoin may be the best investment in existence right now due to macro trends.
Featured Image from Shutterstock
Price tags: xbtusd, btcusd, btcusdt
Charts from TradingView.com
Bitcoin to Soon Form Signal Last Seen Prior to 1,000% Rally in 2017