Bitcoin price is only a mere few hundred dollars away from setting a higher high and confirming a new bull market. Coinciding with what appears to be a breakout ready to happen, whale-sized wallets holding more than 1000 BTC have surged to the highest level in the asset's history.
Is this it – is the next cryptocurrency bull market based on Bitcoin's block reward halving as the stock-to-flow model predicts, finally here?
Big Buyers Prepare For Crypto Bull Run By Accumulating Bitcoin
Bitcoin has been bullish all throughout 2020, even becoming the best performing mainstream asset beating out gold, stocks, and more. The leading cryptocurrency by market cap started off the year bullish, leading into the block reward halving in May.
But before the day arrived, the pandemic struck and the stock market selloff on Black Thursday caused Bitcoin's uptrend to collapse.
The cryptocurrency and stocks have been on a tear since, with Bitcoin only recently decoupling due to network effect and adoption metrics rising.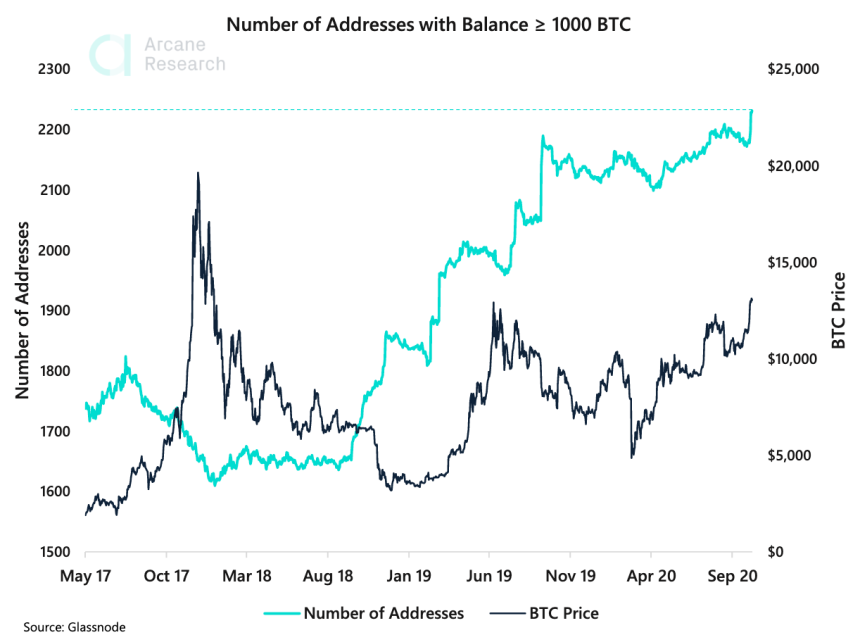 Whale wallets over 1000 BTC grow to historic levels | Source: Glassnode, via Arcane Research
For example, non-zero BTC wallets and active wallets have recently reached new highs, and now, even whale-sized wallets holding 1000 BTC or more have spiked to the highest levels ever.
Related Reading | Bitcoin Could Be Just One Week Away From A New Monthly All-Time High Close
But what exactly is behind the sudden surge?
Whale-Sized Wallets With 1000 BTC Or More Reach New Highs, Is Price Next?
According to data, BTC addresses with a balance of 1000 BTC or more have grown to the highest level ever. These whales hold enough Bitcoin, that if the cryptocurrency ever reaches prices of $1 million per BTC as predictions reach, they'd have $100 million USD worth of the cryptocurrency.
Related Reading | Paul Tudor Jones: Bitcoin Is In First Inning, Like Investing In Apple Or Google Early
And that could be precisely the reason for the number increasing. With the expectation that Bitcoin's valuation could rise to such levels, whales are preparing for the long haul. At current prices, that sized wallet worth of BTC would be valued at over $13 million today.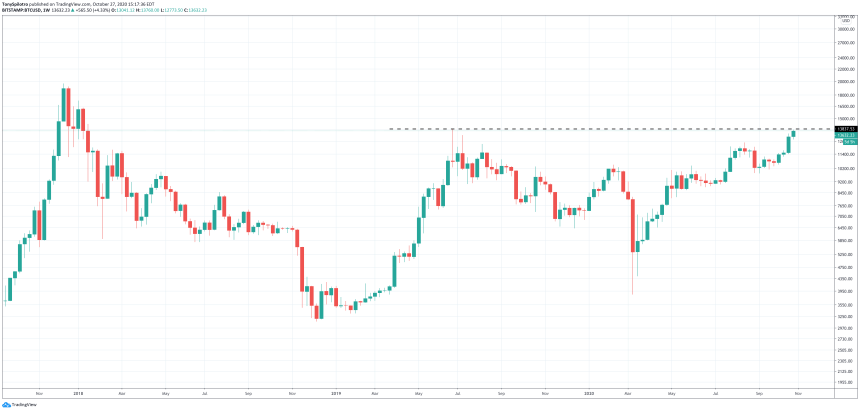 Bitcoin closes in on setting a higher high for the first time since 2017 | Source: BTCUSD on TradingView.com
Another theory for the increase in 1000+ BTC wallets could be more corporations following suit suddenly, and buying BTC on OTC markets to hedge against inflation and the dying buying power of the dollar.
The pandemic and resulting stimulus money has wreaked havoc on the monetary supply and caused a rapid imbalance further against the scarce supply of just 21 million BTC.
Currently,  just 23 companies alone hold over 786,000 BTC or more than 3% of the total supply. The more 1000 BTC whale-sized wallets there are, the even less Bitcoin there will be to go around for small fish investors.
Featured image from Deposit Photos, Chart from TradingView.com, Arcane Research, and Glassnode