Debate surrounding if the Bitcoin bull market is over due to the recent correction is at a full boil, while many are already searching for a bottom of the current downtrend.
Bulls must be careful not to jump the gun due to buying the dip working so well over the last several months. Because bears have only just now taken control of Bitcoin, according to a trend strength measuring indicator.
Analyzing The Crypto Correction And The Possible End Of The Bull Market
Bitcoin price is down by more 50% after a deep drop over the last month – among the worst monthly candles on record were left behind in the wake.
After such a steep correction and the last bull market never allowing more than a 37% retracement, more traders are looking for a bottom to buy rather than a bounce to short.
Related Reading | Two Paths Of A Bitcoin Bull Run, And If A Bear Phase Is Next
The idea the bull market will be back on so soon could lead to losses and a painful realization that this cycle is very different this time around. That's according to the Average Directional Index, which suggests bears only just got back control over Bitcoin, and likely won't let up anytime soon.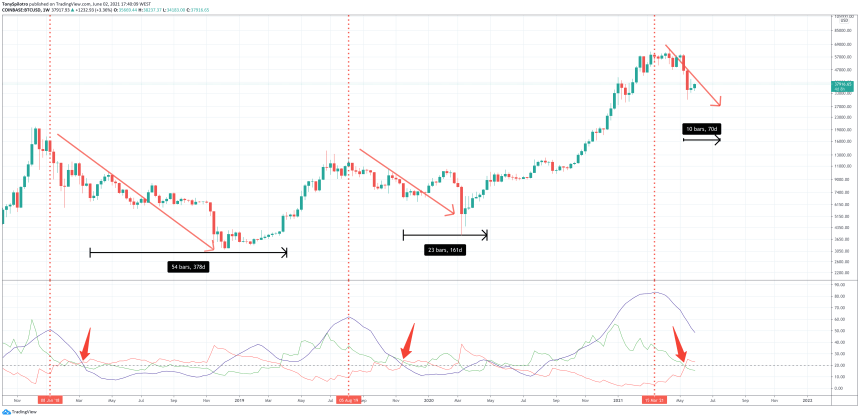 The Average Directional Index shows where bears took over | Source: BTCUSD on TradingView.com
The Average Directional Index Says Bears Now Taken Over Bitcoin
The weekly Bitcoin price chart above shows the many times bears took over the cryptocurrency trend according to the trend strength measuring indicator.
Bullish impulses are always the strongest, which send the Average Directional Index itself rising to the highest readings historically. However, the Directional Movement Index indicators that work with the ADX indicate when bears or bulls are in control of the trend.
Related Reading | Market Timing: Why Bitcoin Could Sweep Lows Before A Bounce
In this case, bears have just taken over Bitcoin after an entire year. So while bulls are expecting an immediate bounce back to highs, a correction anything less than three months long doesn't make much sense compared to the length of past bear phases.
Instead, with each passing bear phase, the following bullish impulse gets stronger, suggesting that when bulls do finally take back control, bears will have all but been eliminated, allowing the cryptocurrency to rise to the all-time highs that investors have been expecting – upwards of around $100,000 per coin or higher.
With bears winning the battle currently, it doesn't mean they're totally in charge for the long term. Even during past bear phases, bulls did at times regain the upper hand causing a bounce. Until the current bear phase has ended, shoring those bounces if the right way to go, and leave dip buying for later when the new uptrend is confirmed in a similar fashion via the ADX.
Featured image from iStockPhotos, Charts from TradingView.com