Bitcoin has been expressing tremendous strength throughout the past few days, with its price seeing an unrelenting uptrend that has allowed it to surmount multiple strong resistance levels and flip them into support.
Its momentum stalled slightly yesterday afternoon following its rejection at $13,200, but this appeared to be only a slight speedbump, as BTC may soon retest this level as bulls move to reclaim $13,000.
This rally's strength has been impressive, but the benchmark cryptocurrency may soon face a slight selloff that comes about due to spot selling pressure from so-called whales.
The CEO of a major blockchain analytics firm observed that exchange inflows from large holders of the crypto are spiking, which indicates that they are getting ready to sell their positions.
This may place some slight pressure on Bitcoin in the coming few days.
That being said, unless it pushes the cryptocurrency below the support it has established throughout the lower-$12,000 region, it is unlikely that it will do much damage to its overtly bullish market structure.
Bitcoin Pushes Towards $13,000 Following Slight Overnight Selloff 
At the time of writing, Bitcoin is trading up over 1% at its current price of $12,940. This is around where it has been trading throughout the past 12 hours or so.
Yesterday afternoon, the crypto rallied all the way up to highs of $13,200 before facing a rejection that sent it back into the $12,000 region.
It has been consolidating ever since, struggling to gain any decisive momentum as bears defend $13,000.
The lack of follow-through on the post-rejection selloff does favor bulls and seems to indicate that it is only a matter of time before buyers shatter the resistance at $13,000.
Research Firm: Whales May Soon Place Some Pressure on BTC
The CEO of analytics platform CryptoQuant explained in a recent tweet that so-called Bitcoin whales are beginning to transfer portions of their holdings off of cold storage and into exchanges.
This suggests that a slight selloff could be right around the corner, although he doesn't believe it will be too far-reaching.
"BTC Whales are depositing into exchanges. I expect a small drop. All Exchanges Inflow Mean (24h) hits over 2, but the bull market will keep going as the exchange whale ratio is still low."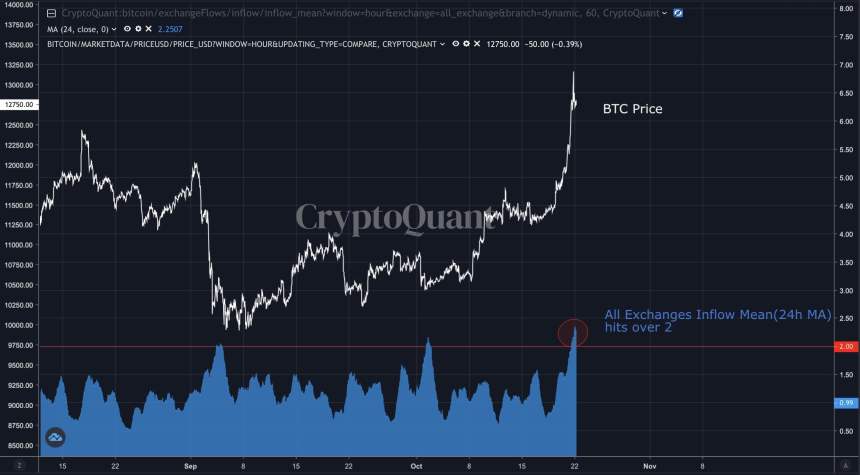 Image Courtesy of Ki Young Ju. Data via CryptoQuant.
How buyers respond to an influx of selling pressure from whales will provide some serious insights into where the entire market may trend next.
Featured image from Unsplash.
BTCUSD Pricing data from TradingView.