Bitcoin price has made a decent recovery from the lows put in around $28,888 and the yearly open, but still has ways to go to catch up the all-time highs.
A buy signal could trigger just days from now, according to the creator of the tool – crypto expert and founder of Capriole Investments Charles Edwards. Not only is this buy signal significant, it has a reputation for being Bitcoin's most profitable.
Expert Says Generational Buy Signal Is In The Cards
Over the last few months, Bitcoin experienced one of its largest bull market crashes on record – enough to get the market to question if a bear market had begun.
The dramatic collapse was in part driven by an exodus of miners from China and related energy FUD. It caused the Bitcoin hash rate to also plummet, which in turned caused the hash ribbons to cross back over to capitulation.
Related Reading | The Idea That The Bitcoin Bottom Is In Is Broadening
According to the creator of the tool, Charles Edwards of Capriole Investments, a buy signal should arrive some time this coming week. But what exactly does this mean? There are buy signals galore in technical analysis. This can occur when there's a TD9 during a downtrend, a decisive close through the middle-Bollinger Band, or at a crossover of the MACD.
A Hash Ribbon buy signal is on the cards for next week

— Charles Edwards (@caprioleio) August 5, 2021
The Most Profitable Bitcoin Buy Signal Is Back
However, the Hash Ribbons buy signal is the buy signal known for the most profits in Bitcoin ever. The last signal of each cycle is especially strong, reaching as much as 5,000% and 3,000% ROI in the past.
The first of the two finale signals took Bitcoin from $20 to $1,200, and the second sent the cryptocurrency from $500 to $20,000 per coin and made it a household name.
Related Reading | How A Hammer & The Golden Ratio Could Mean 6 More Months Of Bullish Bitcoin
What comes next, could be even more dramatic with the entire world at attention. The law of diminishing returns appears to be present, and there have been more capitulation phases and buy signals than during any other cycle.
These factors could alter the final results, but the tool itself has a track record of success.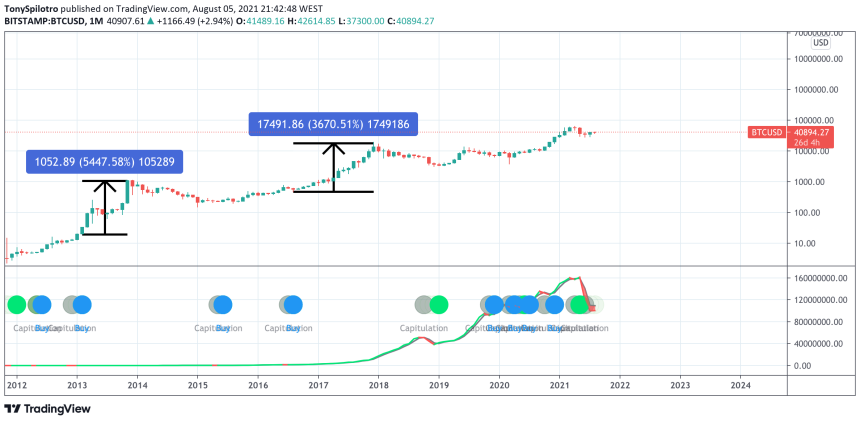 5,000% and 3,000% ROI came from the last two signals | Source: BTCUSD on TradingView.com
The Hash Ribbons are a moving average based on Bitcoin difficulty and hash rate. It is supposed to indicate when miners have given up and have started to sell their coins.
If or when it arrives next week like Edwards says, it could be the start of another bullish impulse in crypto – and it could be the last one before the cycle has ended.
Follow @TonySpilotroBTC on Twitter or via the TonyTradesBTC Telegram. Content is educational and should not be considered investment advice.
Featured image from iStockPhoto, Charts from TradingView.com