After a volatile first half, Bitcoin price action has been grinding sideways, seeking to find some type of reliable support. Although there has yet to be a clear sign of a reversal, the top cryptocurrency by market cap might have finally found support at a ten-year-long trend line.
Complicated Technical Analysis Or This One Simple Trend Line Trick?
Technical analysis is the study of chart patterns, trading indicators, Japanese candlesticks, and other data points in an attempt to predict future price action. The very basis of most technical drawings and chart patterns begins with a simple trend line.
And while it isn't uncommon to see analysts with a kitchen-sink worth of technical tools turned on, sometimes less is more when it comes to getting a good read on the market.
Using only one trend line, it is easy to see why Bitcoin price might have finally found some support. With nothing more than the trend line to go by, buying low and selling high has historically yielded miraculous results.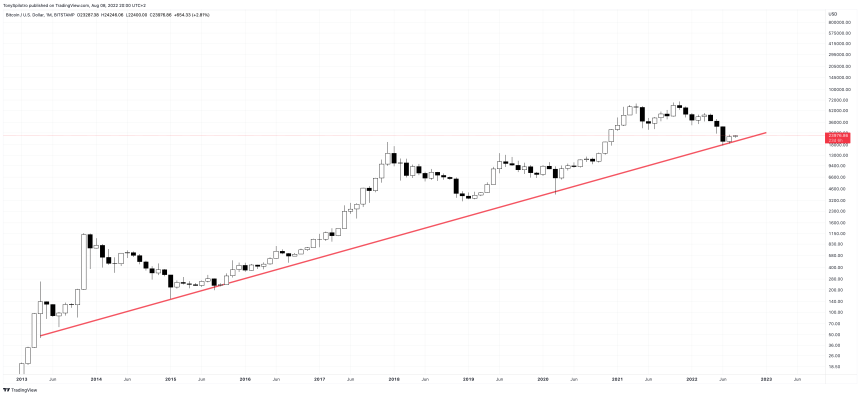 Will this nearly ten year long trend line hold? | Source: BTCUSD on TradingView.com
Has Bitcoin Price Finally Found Support At A Decade-Long Trend Line?
Bitcoin price first claimed the trend line in April 2013, just as Mt. Gox took its exchange offline to give the market time to "cooldown." From there, each subsequent bear market in Bitcoin returned to the same trend line drawn in red.
The trend line was touched in early 2015, and again in 2016 prior to the legendary 2017 Bitcoin bull run. Although the 2018 bear market found support before it ever reached the trend line, the March 2020 Black Thursday collapse took Bitcoin price precisely to the same trend line that is still holding today.
Fast forward to June 2022 and BTC once again touched down on this trend line. July once again tapped the line, yet held strong for a second month in a row. Thus far, August hasn't made an attempt to try again, and after two failed attempts to break below in a row, it might be time for bulls to rally.
Past rallies from the trend line have resulted in 2,200% ROI, 9,700% ROI, and 1,500% ROI, respectively.  Losing it could be catastrophic for crypto, so it is worth paying attention to, as simple as it may seem to the naked eye.  Will this decade-long trend line produce a rally, or will it finally be lost?
Follow @TonySpilotroBTC on Twitter or join the TonyTradesBTC Telegram for exclusive daily market insights and technical analysis education. Please note: Content is educational and should not be considered investment advice.
Featured image from iStockPhoto, Charts from TradingView.com