Bitcoin has seen some wild price action today, setting new all-time highs before facing a 10% pullback that took place over the span of a few minutes
This pullback was short-lived and has mostly been erased in the time since
This type of volatility is to be expected in bull markets and is certainly not something indicative of a mid-term or long-term top
It is important to also keep in mind that while BTC retraced heavily for a short period of time, the buying pressure at $36,000 was intense
One analyst is now noting that a confluence of different factors all suggest that a move past $40,000 could be imminent
He notes that the crypto could peak around $48,000 in the weeks ahead
Bitcoin has seen some wild volatility throughout the past few days and weeks, with its rally reaching a boiling point this morning when bulls sent it flying up to highs of $40,000 before it faced an intense influx of selling pressure.
From here, the crypto slid to lows of $36,000 before the selling pressure subsided, and the cryptocurrency was able to rebound back above $39,000.
BTC now looks poised to see further upside, and it may only be a matter of time before it rallies towards $48,000 – according to one analyst.
Bitcoin Sees Heightened Volatility Following $40,000 Test
At the time of writing, Bitcoin is trading up just under 5% at its current price of $38,600. This marks a notable decline from daily highs of $40,000 and marks a rebound from its recent lows of $36,000 that were set just a few days ago.
Where the market trends in the mid-term should depend on whether Bitcoin can maintain the upper-$30,000 as a support level and flip the $40,000 resistance.
Trader: Confluence Suggests BTC Will Target $48,000
One trader explained in a recent tweet that a confluence of factors suggests that a break above $40,000 is imminent.
He notes that these levels specifically point to an imminent move to somewhere between $46,000 and $48,000.
"BTC: 2015 PF + two-year MA multiplier showing resistance confluence from 46k-48k. IF we get there, i'll be selling spot into cash"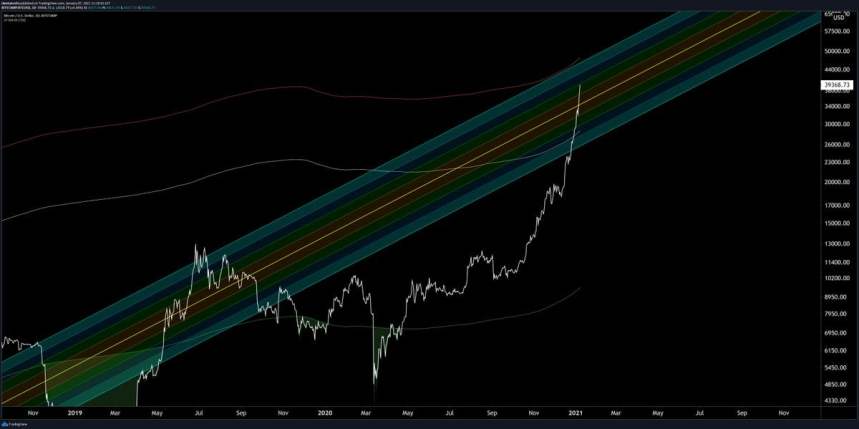 Image Courtesy of CarpeNoctom. Source: BTCUSD on TradingView.
Unless Bitcoin establishes $40,000 as a local top, there's a strong possibility that it will see further upside in the coming few days.
Featured image from Unsplash.
Charts from TradingView.