Bitcoin has undergone a strong surge since the lows of the week around $13,200. As of this article's writing, the leading cryptocurrency trades for $15,100, slightly below the $15,300 daily highs but far above the aforementioned weekly lows.
The leading cryptocurrency is up around 6% in the past 24 hours as the U.S. dollar continues to tumble lower. The U.S. Dollar as the election has swung in Biden's way, which many believe will lead to a further devaluation of the currency that if President Trump was re-elected.
Despite this underlying macroeconomic trend, there are some that think Bitcoin corrects from here.
Bitcoin Could Drop From Here, Analysts Say
Bitcoin has a good likelihood of dropping from here, analysts say after the rapid move to $15,100.
One crypto-asset analyst shared the chart below after BTC hit $15,300, noting that the cryptocurrency just hit a monthly pivot. This is important because the last five out of seven times BTC interacted with monthly pivots as it did now, it saw a pullback of 10-30%. 10% below Bitcoin's current price of $13,500 while 30% below BTC's current price is $10,500.
Commenting on the chart, the analyst who shared it stated:
"5/7 of the last times $BTC came into contact with the monthly R1 pivots it saw a pullback."
Of note, Bitcoin doesn't crash every time it runs into a monthly pivot level. As can be seen, in October, the cryptocurrency exploded past the previous monthly resistance at $12,000 to $13,000 in a single daily candle. It could do the same now, especially if the buying volume that has been seen over the past few days continues to roll in.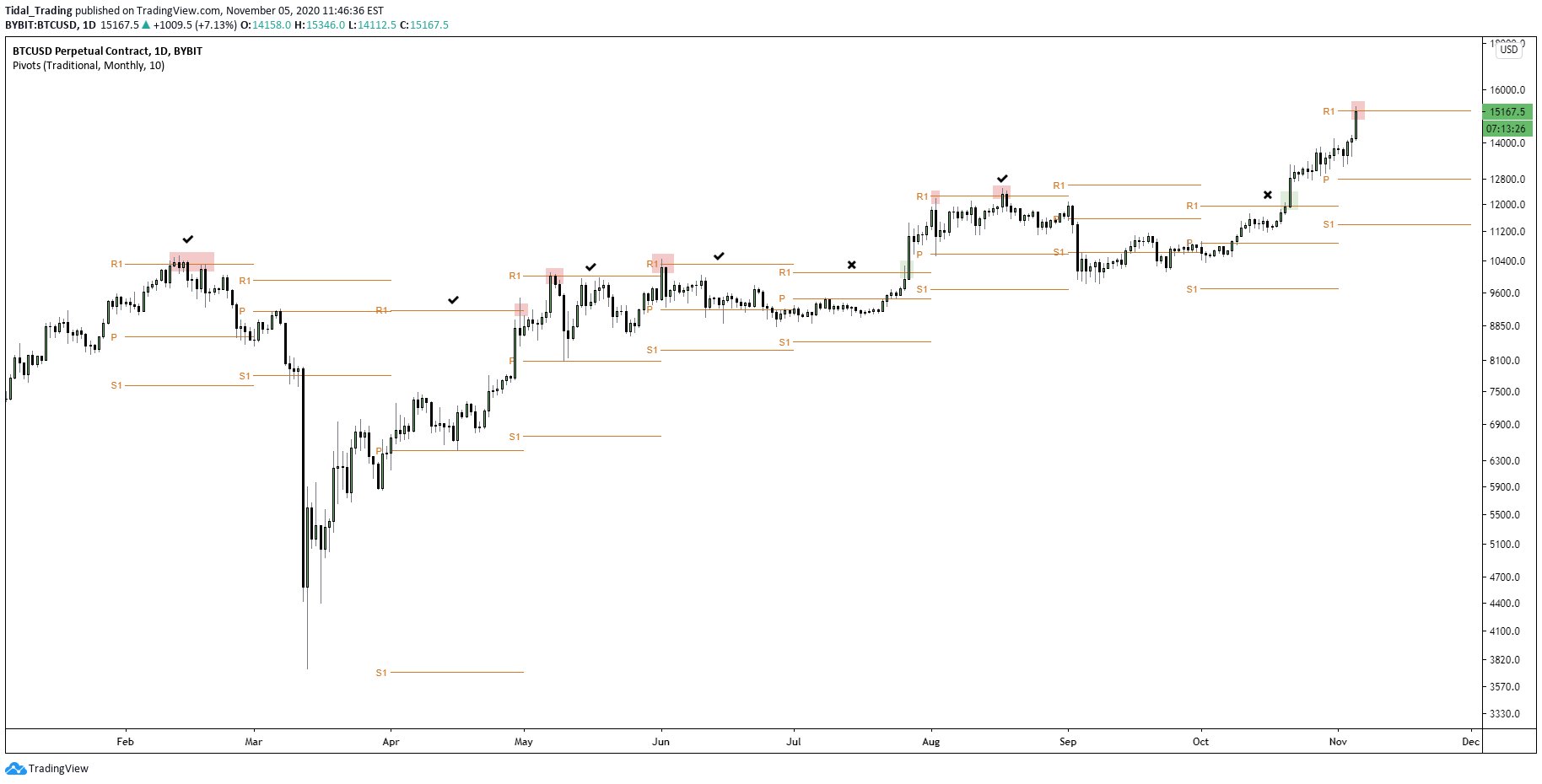 Chart of BTC's price action over the past few months with analysis by crypto trader HornHairs (@Cryptohornhairs on Twitter).
Source: BTCUSD from TradingView.com
Maybe Not
Driving this rally is the U.S. dollar dropping. USD is again dropping due to expectations of a Biden presidency, which should result in a large stimulus bill that would end up driving down the value of fiat currency.
Further expectations of stimulus could end up driving Bitcoin higher instead of triggering a retracement as some expect. How this plays out, though, remains to be seen.
It is also feasible that a Trump presidency, or a second Trump presidency, would also include a strong stimulus bill.
Featured Image from Shutterstock
Price tags: xbtusd, btcusd, btcusdt
Charts from TradingView.com
Why Analysts Think Bitcoin Corrects After Surge to $15,000