Chainlink's native token LINK was among the biggest gainers as a majority of assets in the crypto market plunged deeply earlier this week.
The eleventh-largest cryptocurrency beat the bearish odds to grow by more than 40 percent since February 26. It established a week-to-day high at $4.38 in early Saturday trading, hinting its inclination to behave as a hedge against Bitcoin, the top asset that plunged by circa 16 percent this week.
#Chainlink is receiving tremendous exposure during this $BTC, $ETH retrace. It's performing with the lights on. There will be a sizable increase in wallets. More excited evangelists. More tweets. More buying, less selling. Welcome All To The Brotherhoood. $LINK

— John Cioffoletti (@JohnCioffoletti) February 27, 2020
The safe-haven narrative was not in play during most of the February session. The LINK-to-USD exchange rate slipped almost in tandem with the rest of the crypto market after settling its year-to-date high of $4.90. It was down by up to 36 percent before it even attempted a pullback.
But Chainlink validated its key supports, which other cryptocurrencies failed to maintain. The coin bounced back from its 50-day moving average, showing higher buying interest near the area. It was not the case with Bitcoin or XRP, which plunged below their short-term moving averages in massive sell-off rounds.
Chainlink's ability to maintain its crucial floors led to a decent recovery this week, opening up the possibilities of extended upside momentum in the next.
"A bullish retest of the monthly close bought up recently," said popular market analyst CryptoGainz. [There is now] zero resistance above. Absolute juggernaut. No reason to think [LINK] won't outperform the field again next month."
Chainlink's Upsides
LINK's gains also came against the backdrop of a new deal and spreading of Coronavirus in and outside China.
Chainlink announced on Tuesday that it would be offering its decentralized oracle to Polkadot, a blockchain interoperability platform. The announcement read that Polkadot will use Chainlink to safe access "virtually any external, real-world resource" – via a so-called parachain technology which acts as a 'LINK' between different blockchains.
One day after the announcement, the LINK-to-dollar exchange rate went up.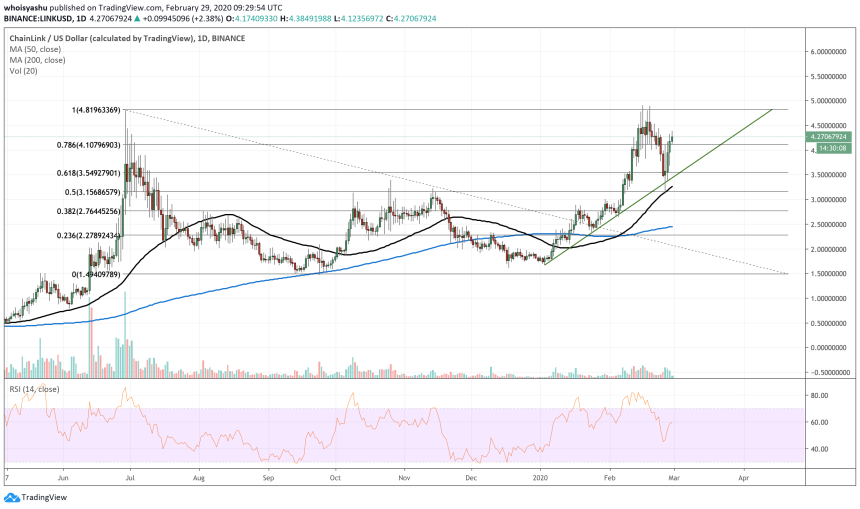 But the growth also increased the chances of deeper retracements. In comparison to other assets, both in- and outside crypto, LINK is offering better profit-taking especially when traders are looking liquidate their positions for hard cash. Stocks, gold, cryptos are all going down owing to the same sentiment against Coronavirus risks.
Technically, LINK could continue its near-term bull run towards circa $4.80 before it pullback to test a support level near $4.10. Or, traders could withdraw their positions pre-maturely and crash the price below the said support – towards $3.54.