Are these bear flashes important for NEM buyers? Maybe, maybe not. In fact the deeper, the better and for most coins, we now need simple confirmations before we initiate longs.
A point in case is LTC, DASH and Monero. These are BTC alternatives which have been on the receiving end for pretty much the better part of December 2017.
For DASH, buyers were ramping up their long below $1000 and if it continues this way, prices could be on their way snapping back trend.
Let's have a look at other alt coin charts
CLOSE ABOVE $1.62 IS SUPPORTIVE OF NEM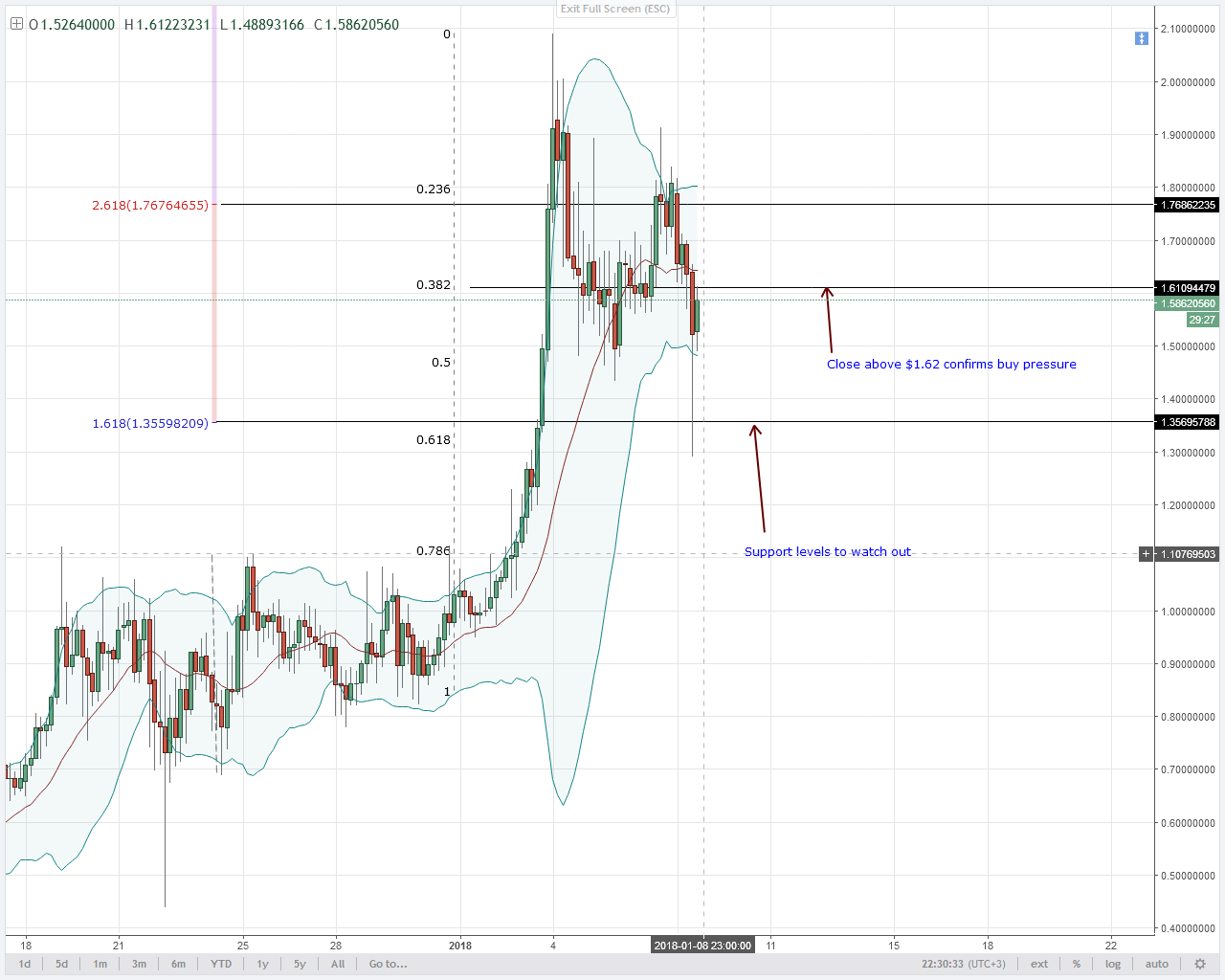 It's a pretty nice dip and bounce from $1.35 and what do we do from now? Well, as we can see, the long lower wick hints of intra-day buy pressure and it would be a total confirmation if NEM  inch higher in the coming sessions.
I would like to see a double bar reversal pattern after this candlestick pushing prices above the 38.2% Fibonacci retracement level.
Until that happens, I don't recommend long entries.
DASH FIND SUPPORT BELOW $1000
Before this bear pressure, all we needed was a bullish confirmation above $1300 but that didn't happen. Instead, sellers continue to push prices lower leading to that close below the minor support trend line which in turn opened the gates for sellers.
Our indispensable Fibonacci retracement tool anchoring on last week's high low shows that DASH reacted at the 78.6% level.
From similar patterns in the past, even if DASH continues to pump prices, the best it can do is test last week's highs which is also the main short term resistance line at around $1300.
That is where buyers should be aiming in the coming sessions assuming there is no collapse below $950. Therefore, I recommend long entries the moment there is a bull candlestick closing above $1100.
IOTA BACK TO OSCILLATION MODE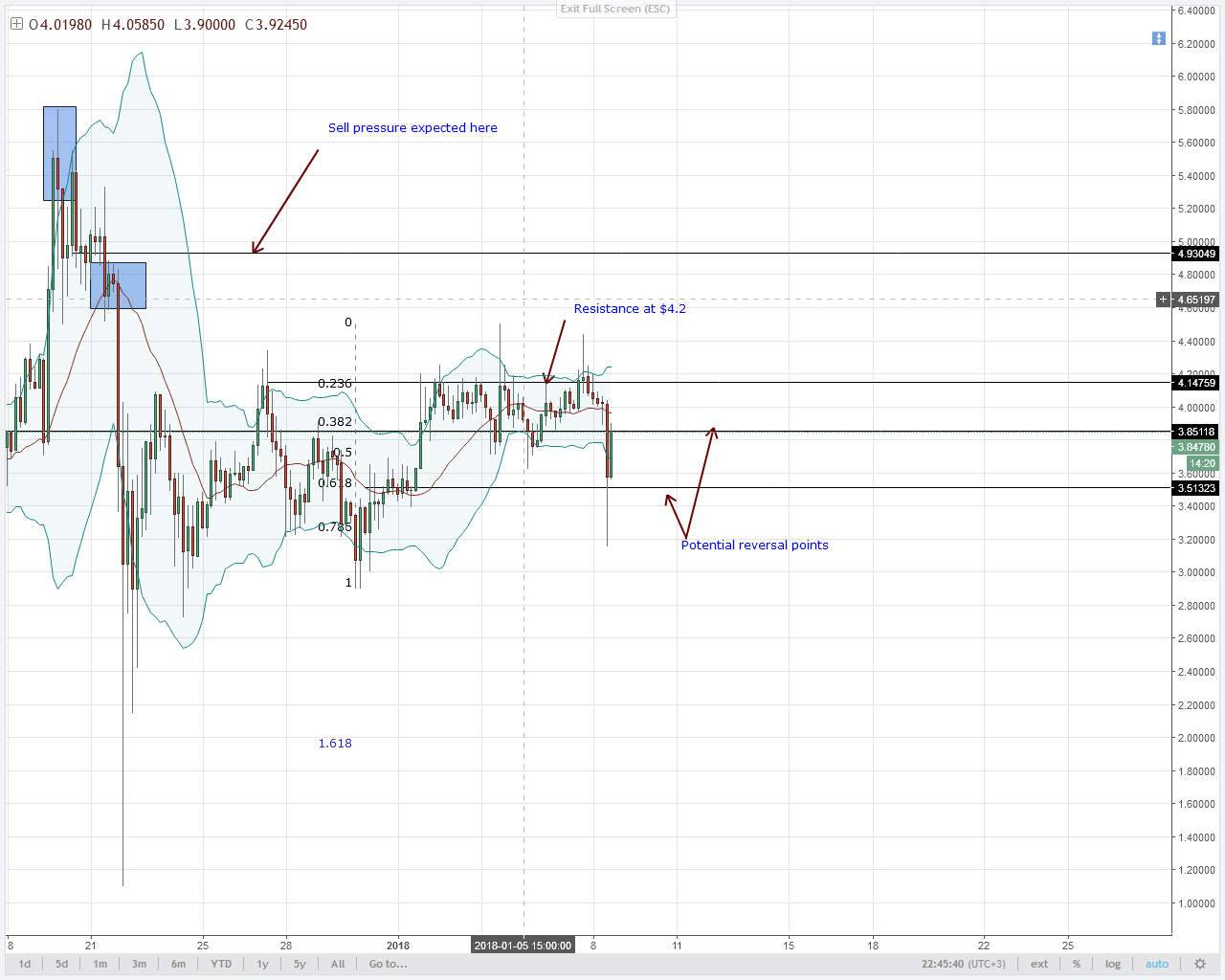 After January 6 close above $4.2 turned out to be a fake break out, yesterday's IOTA lower lows temporarily invalidates our short term bull projection.
As prices continue to oscillate within a $1 range, any close below or above any of these bounding limits might be a break out trade but only if the candlestick is strong enough.
Because last week's range was low, I still hold on to a bullish narrative especially if buyers push IOTA prices above $4.2 despite the recent bear candlestick testing $3.
MONERO DOUBLE BAR REVERSAL PATTERN AT $350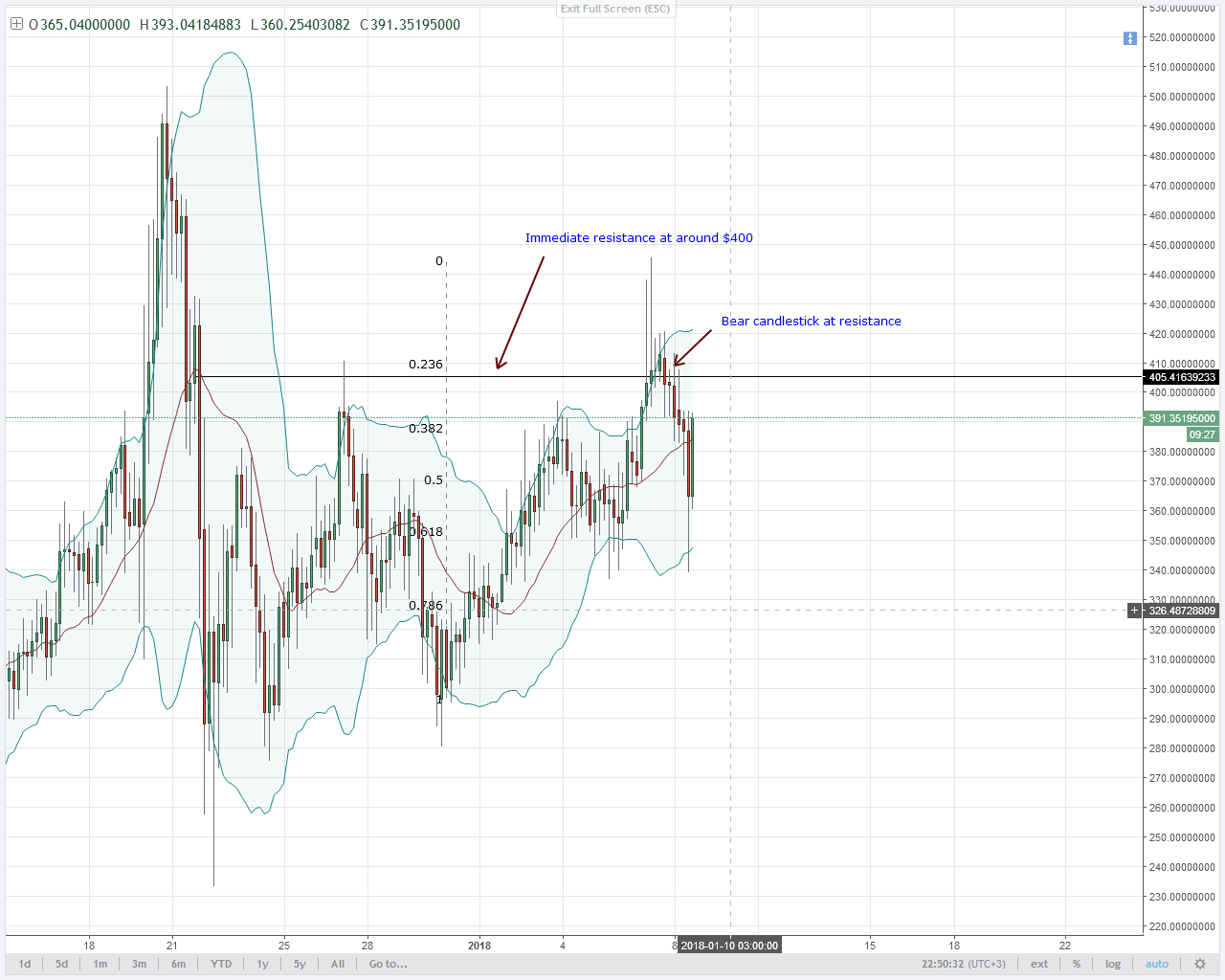 As per our trade recommendation on January 8, our sell limits were at $350.
From the charts and especially if you paste a Fibonacci retracement tool between last week's Monero high low, you find that this is the 50% retracement level.
Now, look at what is happening. A clear double bar reversal pattern is in progress and assuming buyers triumph and close above $400 in the coming sessions then $500 won't be a trudge.
WITH A RETEST ON COURSE LTC PRICES COULD END UP AT $300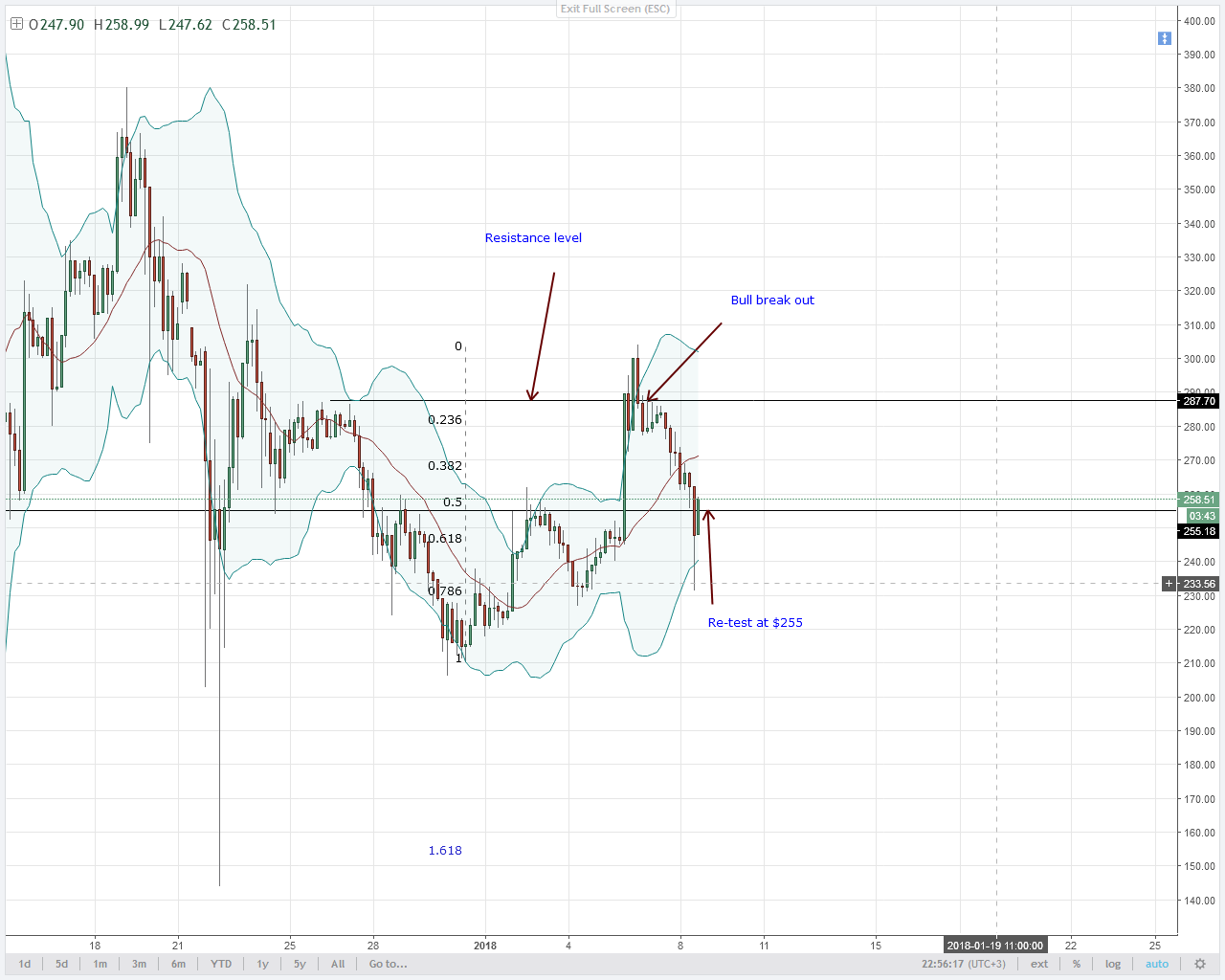 After dipping to as low as $231, LTC found support. Now, as per my recommendation, any test of $255 is a retest and that is what we are seeing now.
The deal here is simple.
If this double bar reversal pattern printing out at around the 61.8% and 50% Fibonacci retracement level acts as a spring board for buyers, I recommend longs the moment LTC prices close above $270.
All charts courtesy of Trading View