The total crypto market cap rallied recently and broke the key $130.0B resistance area.
EOS price broke the key $3.65 and $3.70 resistance levels and tested $3.80.
Bitcoin cash price rallied more than 10% and broke the $150 and $160 barriers.
Tron (TRX) price is slowly moving higher and it could break the $0.0240 resistance level.
Cardano (ADA) price cleared the $0.0500 resistance to move into a positive zone.
The crypto market broke key resistances to move into an uptrend. Bitcoin (BTC), Ethereum (ETH), EOS, bitcoin cash (BCH), ripple, tron (TRX), ADA and other altcoins are trading with bullish moves.
Bitcoin Cash Price Analysis
In the past few sessions, bitcoin cash price performed really well and broke the $140 and $150 resistances against the US Dollar. The BCH/USD pair even broke the $160 barrier and traded to a new monthly high above $165. At the moment, the price is consolidating gains below the $168 and $170 resistance levels.
If there is a downside correction, the $162 and $160 levels are likely to act as solid supports in the near term. On the upside, a break above the $170 level might call for a push towards the $180 level.
EOS, Tron (TRX) and ADA Price Analysis
EOS price slowly climbed above the $3.65 and $3.70 resistance levels. The price even broke the $3.75 level and it is likely to clear the $3.80 resistance in the near term. The next key resistance is at $3.85, above which the price may rally towards the $4.00 barrier.
Tron price managed to stay above the $0.0220 support and it recently corrected higher. TRX price climbed above the $0.0230 resistance and it may continue to rise towards the $0.0240 resistance area, which is a major hurdle for buyers.
Cardano price remained in the bullish zone above the $0.0400 support. ADA price recently broke the $0.0460 and $0.0500 resistance levels to register decent gains. It may continue to climb towards the $0.0520 resistance level in the upcoming hours.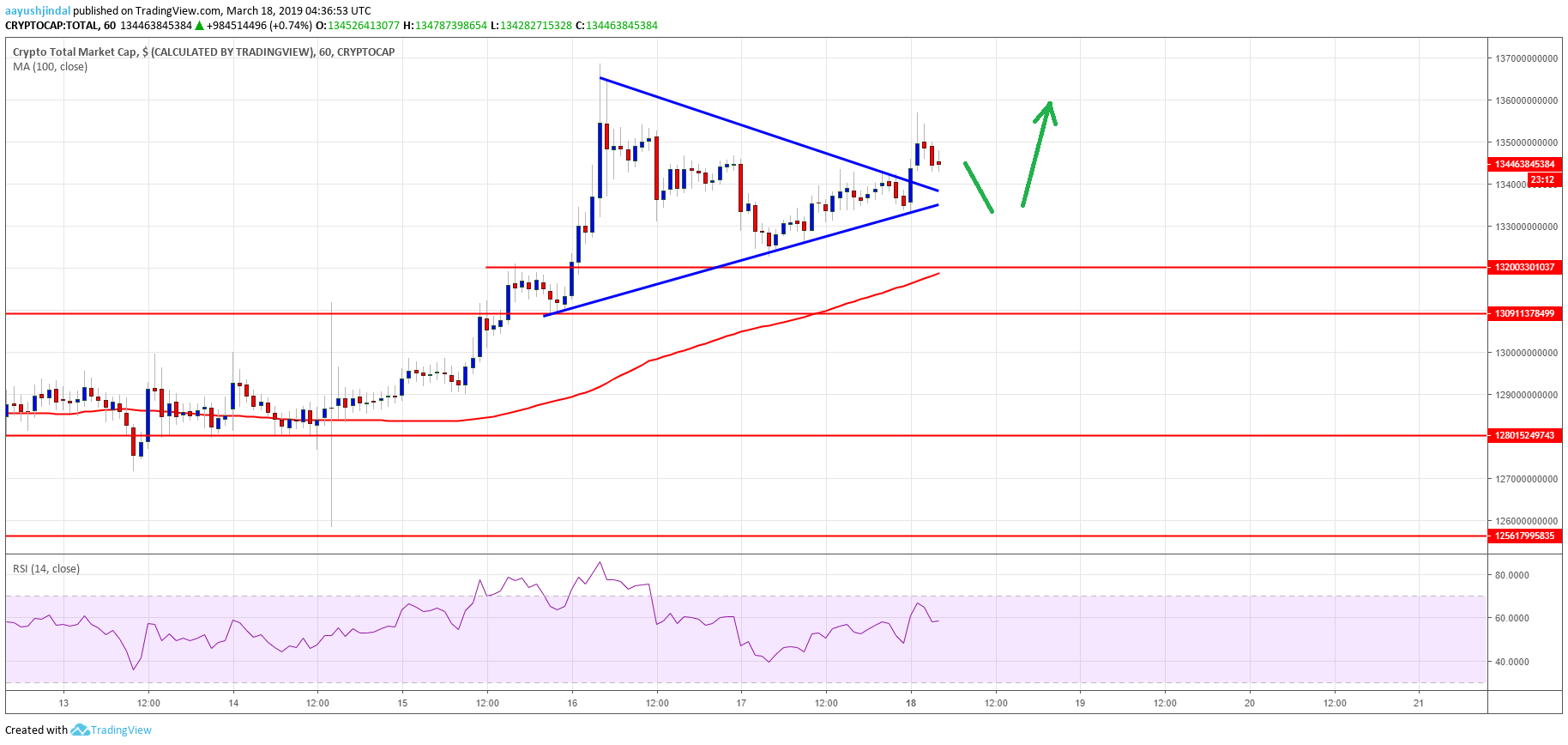 Looking at the total cryptocurrency market cap hourly chart, there was a solid upward move above the $130.0B and $132.0B resistance levels. The market cap even broke the $135.0B resistance and traded towards the $137.0B level. Later, there was a downside correction, but the $132.0B level acted as a support. It bounced back and traded above the $134.0B level. In the short term, there could be a downside correction, but the $132.0B and $130.0B levels are likely to act as solid supports. On the upside, the main resistance levels are near $137.0B and $140.0B. Overall, there are high chances of more upsides in bitcoin, ETH, XRP, TRX, ADA, bitcoin cash, litecoin, EOS, stellar, IOTA and other altcoins in the coming sessions.