Key Points
The total crypto market cap failed to gain pace and declined below $100.00B.
Stellar (XLM) price declined more than 6% and broke the $0.120 support.
Bitcoin cash price fell sharply by around 10% and broke the $90 support.
Tron (TRX) is still stuck above the $0.0130 support level.
Cardano (ADA) price declined once again below $0.0300 and it may slide further.
Bitcoin cash declined heavily and broke the $95 and $90 supports. Stellar (XLM), Tron (TRX) and Cardano (ADA) are currently under pressure and they may slide further.
Bitcoin Cash Price Analysis
During the past few hours, there was a sharp increase in selling pressure on bitcoin cash below the $95 support. BCH/USD declined more than 10% and traded below the $90 support. If the current decline extends, the price may slide further towards the $85 support.
If there is an upside correction, the price may find resistance near the $90 and $92 levels. On the flip side, a break below $85 may push the price towards $80.
Stellar (XLM), Tron (TRX) and ADA Price Analysis
Stellar price declined below the $0.1200 support area to move into a bearish zone. XLM is down more than 6% and it seems to be approaching the $0.1000 support area. On the upside, the previous support at $0.1200 may now act as a resistance.
Tron price remained stable and there was no major decline below the $0.0130 support. TRX price seems to be preparing for the next crucial break either above the $0.0150 level or below $0.0120.
Cardano price failed to stay above the $0.0300 support and declined recently. ADA price is down around 4% and it could extend the current decline towards the $0.0290 or $0.0285 support level.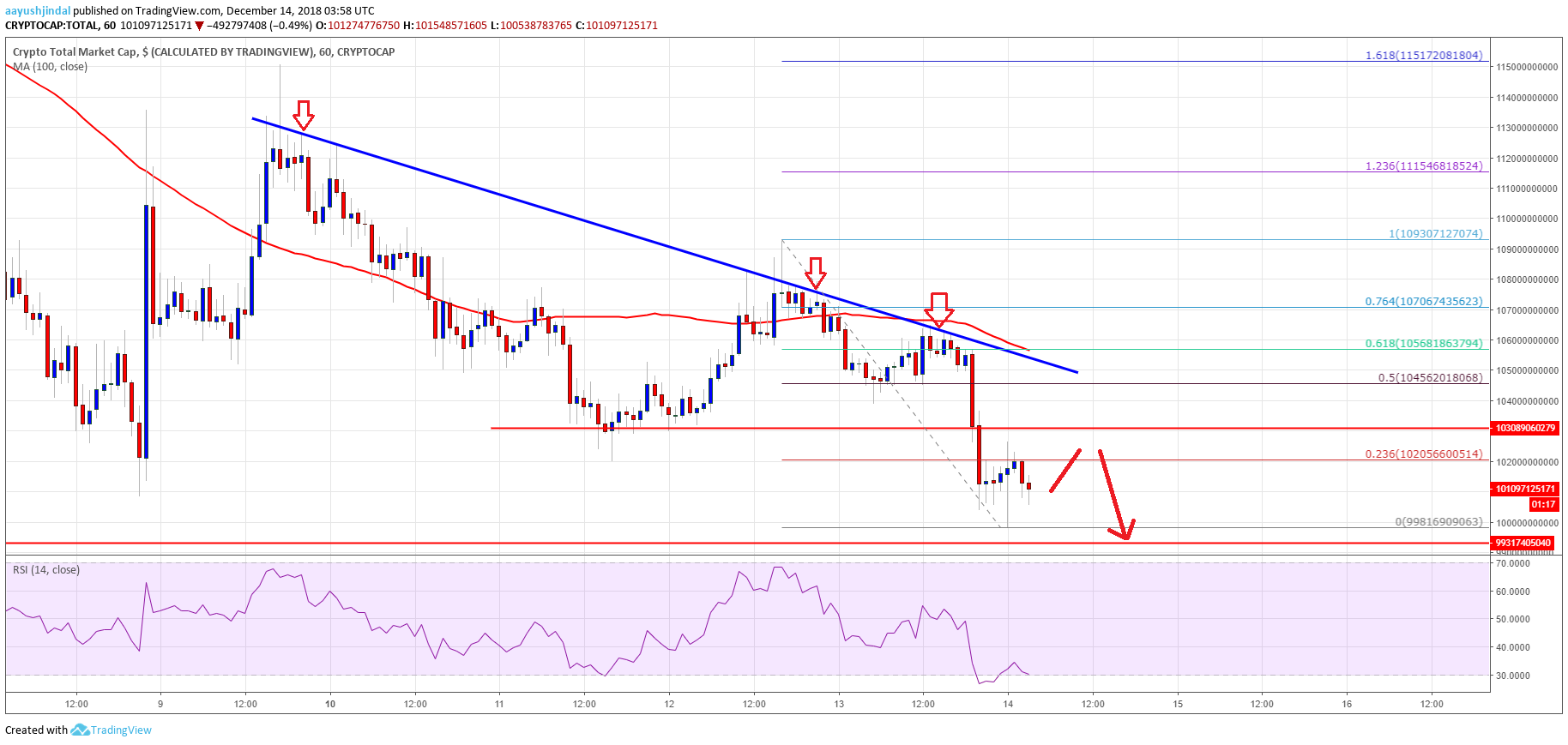 Looking at the total cryptocurrency market cap hourly chart, there was a sharp bearish reaction near the $106.00B level and a bearish trend line. The market cap declined sharply and even spiked below the $100.00B level. It seems like the crypto market is under a lot of bearish pressure and the market cap could even decline below $98.00B, sparking more losses in Bitcoin, Ethereum, monero, stellar, ripple, and other altcoins in the near term.