The DeFi space rose to incredible heights all throughout 2020 but could have come to a roaring peak over the summer months. Assets like Yearn.Finance (YFI), Uniswap (UNI), or Aave (LEND) are all on the ropes, and related Ethereum-based decentralized finance tokens have fallen 60% across the board.
But despite the drawdown already, one sharp-eyed trader is warning that DeFi tokens lack "capitulation volume" that would signal a bottom is in. Here's what to watch for and if that trader's theory has validity.
Trader Calls Attention To Lack Of "Capitulation Volume" In Top DeFi Tokens
The total USD and Ethereum value locked in DeFi applications have a trajectory that matches Bitcoin's parabolic climb into stardom in 2017.
Numbers grew from meager beginnings in early 2020 and quickly ballooned to over $11 billion TVL recently. The DeFi trend spilled into everything else, improving the health and valuations of the entire crypto space.
Ethereum benefited some of the most in the top ten, thanks to most of these tokens utilizing the blockchain, and requiring ETH gas fees to transact. The rest of the DeFi space went on such a tear, several tokens achieved four and five-digit ROI in the summer months alone.
Related Reading | Ethereum Leads DeFi Tokens On A 60% Average Fall From Summer Highs
Yearn.Finance (YFI) appeared out of nowhere and surged to four times the price per BTC. Uniswap also was minted out of thin air, and despite surviving an initial selloff due to free claimed UNI tokens, it has now dropped considerably.
MetaMask, an Ethereum wallet used to connect to these DeFi apps and DEX protocols, also saw a similar surge in user growth. Few projects in the decentralized finance space have done as well as Aave (LEND), however.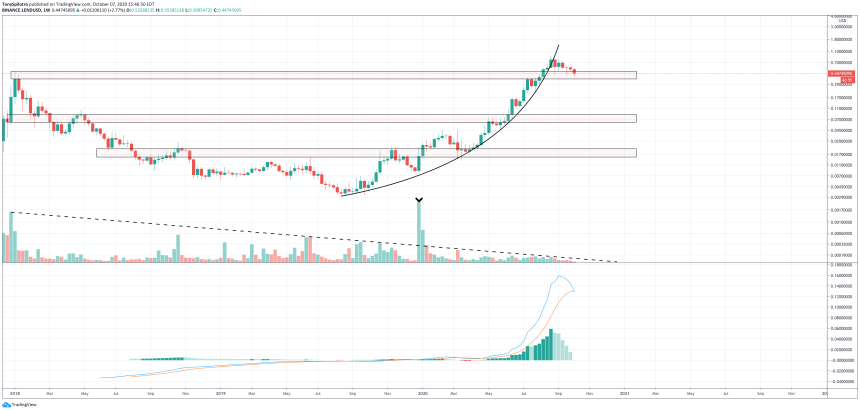 LENDUSD Daily Lack Of Capitulation Volume, MACD Turning Down | Source: TradingView
Aave (LEND) Acts As Ideal Example Of Potential Danger Ahead In Decentralized Finance
Aave (LEND) is the perfect example of what a keen-eyed crypto trader says is a lack of "capitulation volume". In the chart above, the parabolic curve has been lost and Aave has already plummeted 60% or more, yet volume is very telling of what could soon come.
Volume is a useful indicator for analysis because it can confirm trend changes, breakouts, and help to spot early positions from smart money. Aside from the breakout into an uptrend in LENDUSD price charts, Aave trading volume has been in steady decline since 2018.
The Ethereum-built DeFi tokens have already fallen 60% to support but could have a lot further to dive if and when selling volume kicks into high gear. Losing the current support level could do the trick.
Combined with a breakdown of the parabolic advance, and an impending bearish crossover of the MACD after such bullish momentum, Aave is potentially ready for capitulation soon.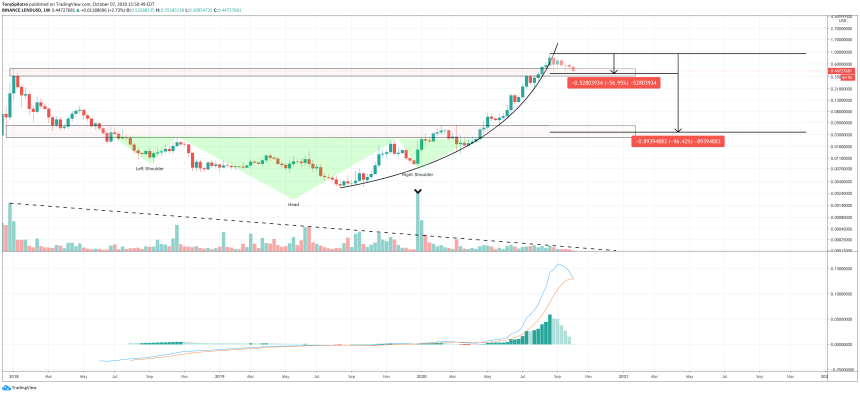 LENDUSD Daily Lack Of Capitulation Volume, MACD Turning Down | Source: TradingView
What exactly does this mean? Well, another look at the same chart, shows an inverse head and shoulders that sent Aave rallying to recent highs. Resistance was never retested as support, and the DeFi token went soaring. A throwback to support to confirm the pattern would be bullish but could result in as much as a 90% fall from here.
Related Reading | How Uniswap & DeFi Drove Ethereum Wallet MetaMask To 1M Users
Like other altcoins that broke down after the crypto bubble, parabolic advances are often followed by as much as an 80% or more drawdown. Bitcoin's was 84%, Ethereum dropped much more. How far will DeFi tokens fall?
Featured image from Deposit Photos, Charts from TradingView