Dogecoin has leapt a massive 8% today disrespecting the resistance level of 50 to be trading at 50.8 satoshis. I have been maintaining in earlier analyses that a major move was expected in Dogecoin as the week comes to a close. The bears have given away the slight advantage that they had over the bulls and the onus is now completely on bulls to tighten their grip.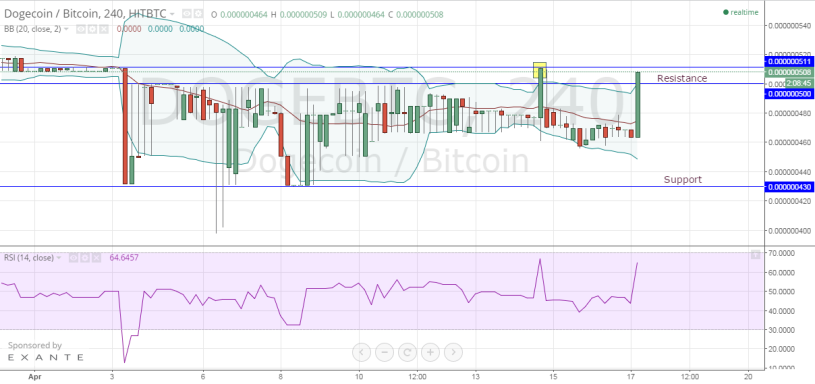 Image: https://www.tradingview.com/x/tbIZVXNa/
Taking a technical look at the 240-minute Dogecoin/BTC price chart above reveals that the upmove has been backed by strength and that maintaining this bullish momentum will be the key to see a further rise in the market cap of Dogecoin.
Chart Structure – The last candle represents a resounding effort by the bulls to take the cryptocurrency higher. Dogecoin is currently above 50 satoshis but is still below its previous top (marked as the yellow box) of 51.1 satoshis from which it last witnessed a disturbing fall. Until and unless, Dogecoin sustains above 50 satoshis and make serious attempts at taking out the previous peaks, the cryptocurrency runs a tremendous risk of frittering away the gains.
Bollinger Bands – As can be seen, the bullish candle has pierced the upper range of Bollinger Band at 50 satoshis. The upper range normally acts as a short-term cap on the price and hence, slight profit booking cannot be ruled out.
Relative Strength Index – The strength reading has soared from around 43 to 64.6457, bringing it closer to the overbought level of 70. The bulls now have to do a dual job of maintaining the strength while pushing the price higher.
Though the cryptocurrency has managed to temporarily free itself from the clutches of sellers, it must be noted that even a slight slip in momentum may present an opportunity to bears to beat the bulls hollow once again. If the price closes above 50 satoshis, all the short positions must be exited.