Ethereum spent the summer months easily dominating Bitcoin on the back of the DeFi bandwagon. Only recently when Bitcoin broke back above $12,000 with a more than $1,000 intraday candle to $13,000, has the trend changed.
Crypto traders waiting for Ethereum to catch up like the last time around, could be left with heavy bags, according to one crypto trader who says that the altcoin is simply exhibiting "weakness" relative to BTC.
DeFi Summer Of Love Ends In Bad Breakup With Crypto Dominance
2020 has been primarily about Ethereum and the decentralized finance movement, and all associated crypto tokens. These coins, built on the back of Ethereum as ERC20 tokens, exploded in price the more total value locked in DeFi applications grew.
Ethereum became the top performing asset had a stimulus check been invested into crypto back in April, resulting in more than two times the return as Bitcoin.
Related Reading | Asset Manager Who Predicted Ethereum Outperforming Bitcoin: The Trend Is "Done"
The trend recently reversed, however, when the domino effect of business buying Bitcoin was capped off by payments giant PayPal announcing support for cryptocurrenices.
And although Ethereum was part of the list of just four crypto assets to make it onto PayPal, Bitcoin and Litecoin left ETH behind.
Ethereum Isn't Lagging, It Is Weak Compared To Bitcoin: Trend Trader
Ethereum beat Bitcoin to setting a new 2020 high, and has set a higher high over its 2019 peak. Bitcoin, however, has yet to breach above last year's peak, but it did manage to finally set another 2020 high.
Since Bitcoin set a higher high, Ethereum has lagged behind, failing to follow to another new 2020 peak.
The altcoin might not simply be lagging, however, and may just be exhibiting "weakness" according to crypto trader Cold Blooded Shiller.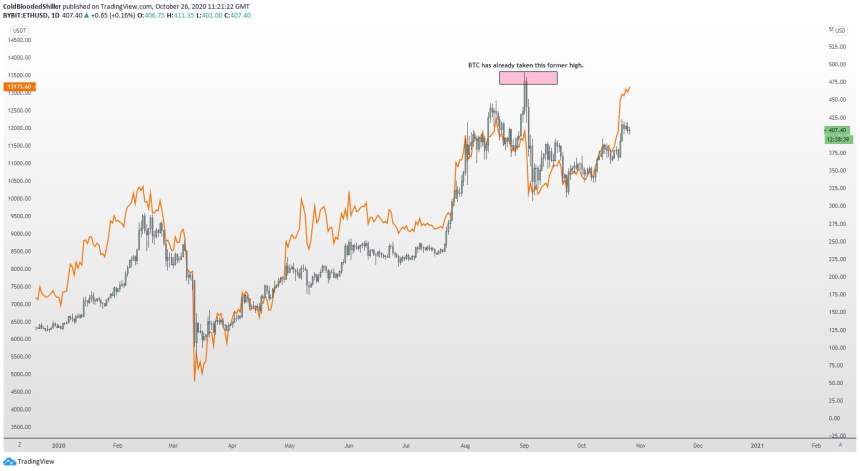 ETH versus BTC side-by-side comparison chart exhibiting "weakness" | Source: ETHUSD Versus BTCUSD on TradingView.com
Ethereum's weakness relative to Bitcoin is demonstrated in a side-by-side comparison shared by the trader, who compares traders waiting for ETH to catch up to BTC, to those who got burned waiting for Tezos to follow Chainlink to a new all-time high.
Related Reading | Eerie Bitcoin Fractal Suggests Ethereum's Price Is About To Explode Higher
The new high never arrived for XTZ, meanwhile, Chainlink took off to the moon. Now it's Bitcoin's turn, and after such a strong summer for Ethereum, and the air coming out of the DeFi bubble, the weakness relative to BTC is likely to conintnue.
Featured image from Deposit Photos, Chart from TradingView.com