Ethereum is trading very flat in a dull session as bitcoin remains undecided about the future direction. Currently at 0.00191BTC, Ethereum is in a no trade zone as discussed in the previous technical analysis.
Sole Positive – The technical indicators are, however, rebounding from the respective oversold levels.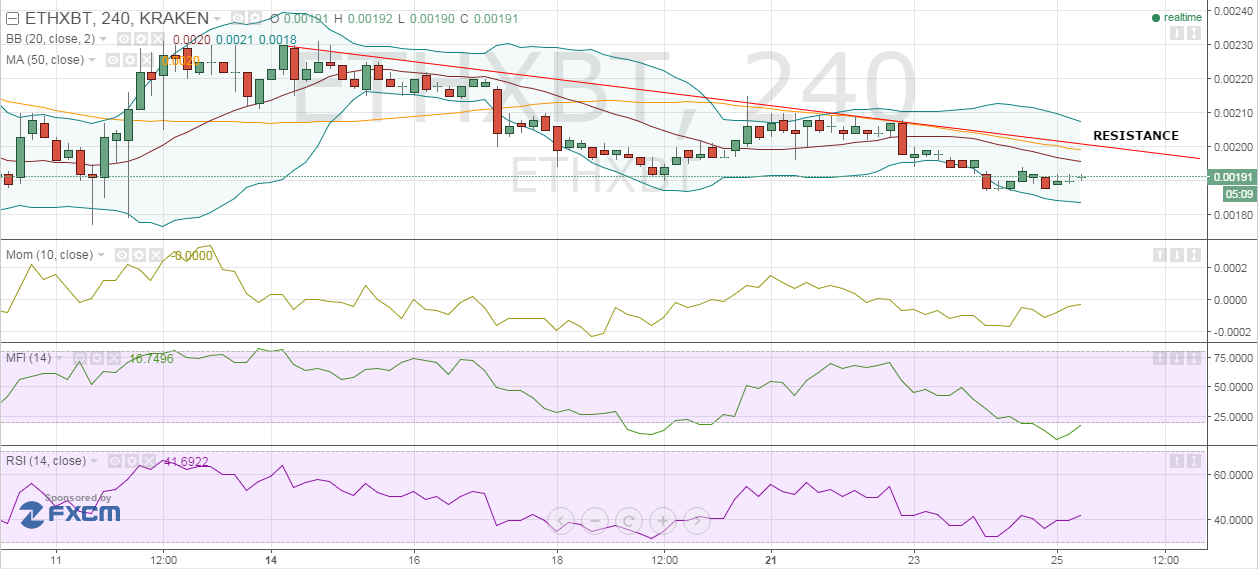 I would like to discuss the resistance and support levels for Ethereum now. To serve this purpose, I will be using the 4-h ETH-XBT pair.
Chart Structure – The pair has been registering lower tops and lower bottoms for the past 10 trading sessions. Connecting the two highs in this period puts the resistance at 0.0020BTC. The support is the lowest level of this period i.e. 0.0018BTC.
Moving Averages – A cluster of moving averages, namely the 50 4-h SMA of 0.0020BTC and the 20 4-h SMA of 0.00196BTC, are most likely to keep the gains limited.
Momentum – The Momentum indicator is turning its head up and attempting to cross the 0-level.
Money Flow Index – The MFI hit an extremely oversold level of 5.2295 before rising to 16.7496.
Relative Strength Index – Similar to the action in MFI, the RSI also seems to have bottomed out. The latest value of 14 4-h RSI is 41.6922.
Conclusion
It is hard to imagine any shock fluctuation in price as investors celebrate the year-end. Calmness in the bitcoin market is also expected to keep Ethereum relatively stable. A consistent bearish pressure may cause the pair to test the lows of 0.0018BTC.
My recommendation would be to avoid trading the pair at the current level. Traders should build short positions when the price nears 0.0020BTC or create long positions when the price hits 0.0018BTC.
I do not expect volatility to pick up anytime soon.