We were right with our IOTA prediction. There's an obvious IOTA lift off.
Well, many people believe in IOTA given the more than 10X spike in the last 2 months. NEM is also picking up while we are seeing a slowdown in LTC, DASH and Monero.
NEM SLICES THROUGH $0.93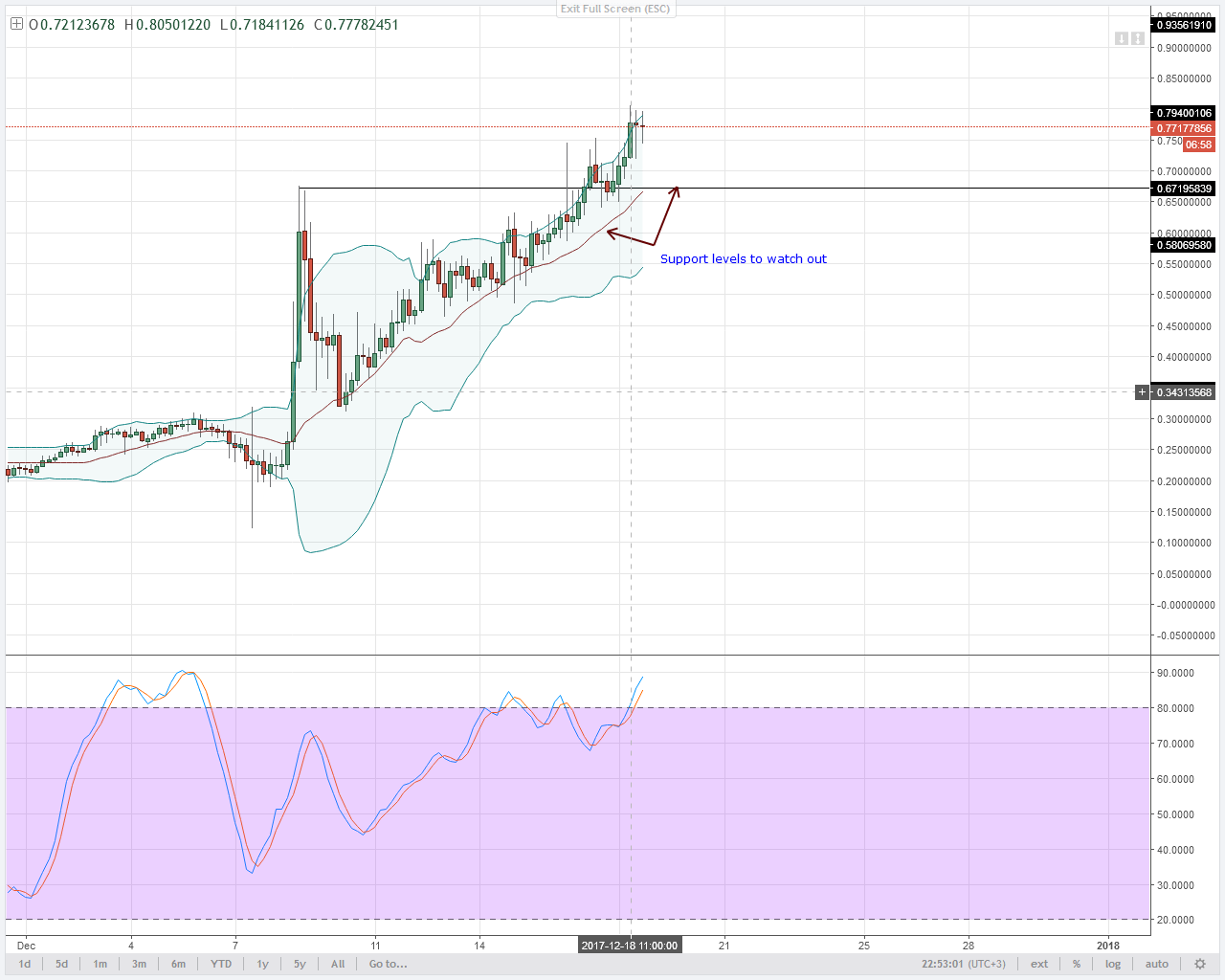 After yesterday, we can say we were on the right side of the trade as prices ended up rallying. In fact by close, NEM highs had tested $1.12. That's about $0.32 from where we had placed our buy stops. It was at our resistance if you remember well.
I will be general today. First, following that spike, we shall remain calm and stay humble in our "mini victory". Long term trend buyers are late, perhaps buying in the last stage, the 4th wave of the Elliot wave.
Since I don't know what the future prices are, we shall base our swings here on the 4HR chart. The thing is, the 20 period MA has is still reliable and positive sloping meaning buy momentum is still high.
However, we got a little problem with our stochastics. Bears are jumping in. Remember just before December 19 close we had this bearish engulfing candlestick preceded by that inverted hammer which by the way closed above the upper BB resulting in a double bear reversal pattern.
In my opinion, NEM prices could easily retrace back to support at $0.80. Once a buy signal prints at the oversold territory, that is when I might end up buying depending on the then prevailing set up.
DASH MIGHT SLOW DOWN AND TEST $900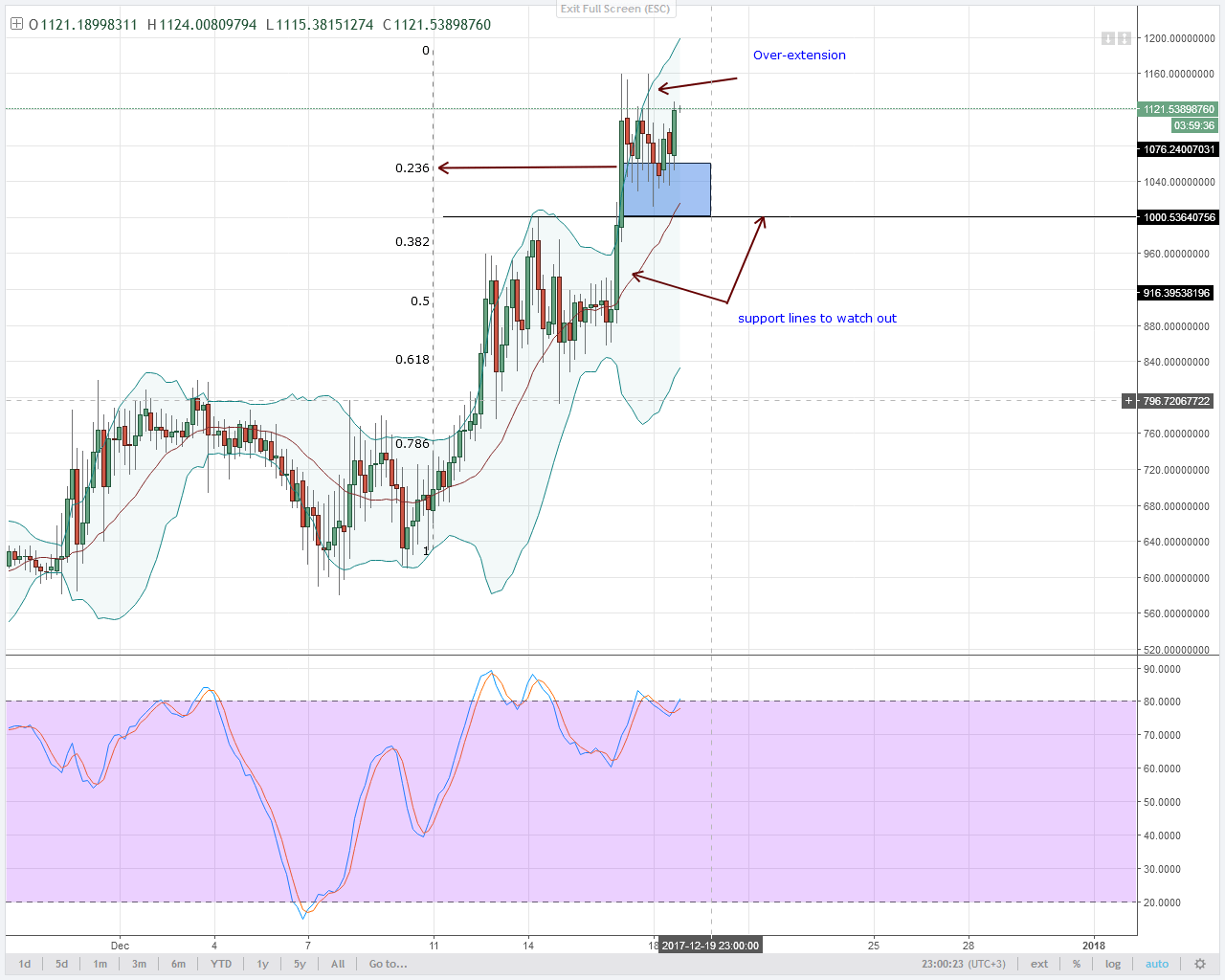 I was doubtful of this reversal and now you see why. As it is often the case, reliable reversal happen at levels mentioned from December 19 Analysis-around 38.2% and 61.8% or even lower.
If we analyze this "rally" then you notice that there are no buys to pump prices. Stochastics are even turning lower from deep the overbought territory accompanied by those bear candles.
Look, in the long term we remain bullish. DASH, the project is awesome but for intra-week traders, stay on the sidelines and observe.
I anticipate some form of reaction at the middle BB but a dip below last week's high will be ideal for buying at dips.
For this reason, my potential area where buyers might jump in is around $830 and $900.
YES, IT'S AN IOTA LIFT OFF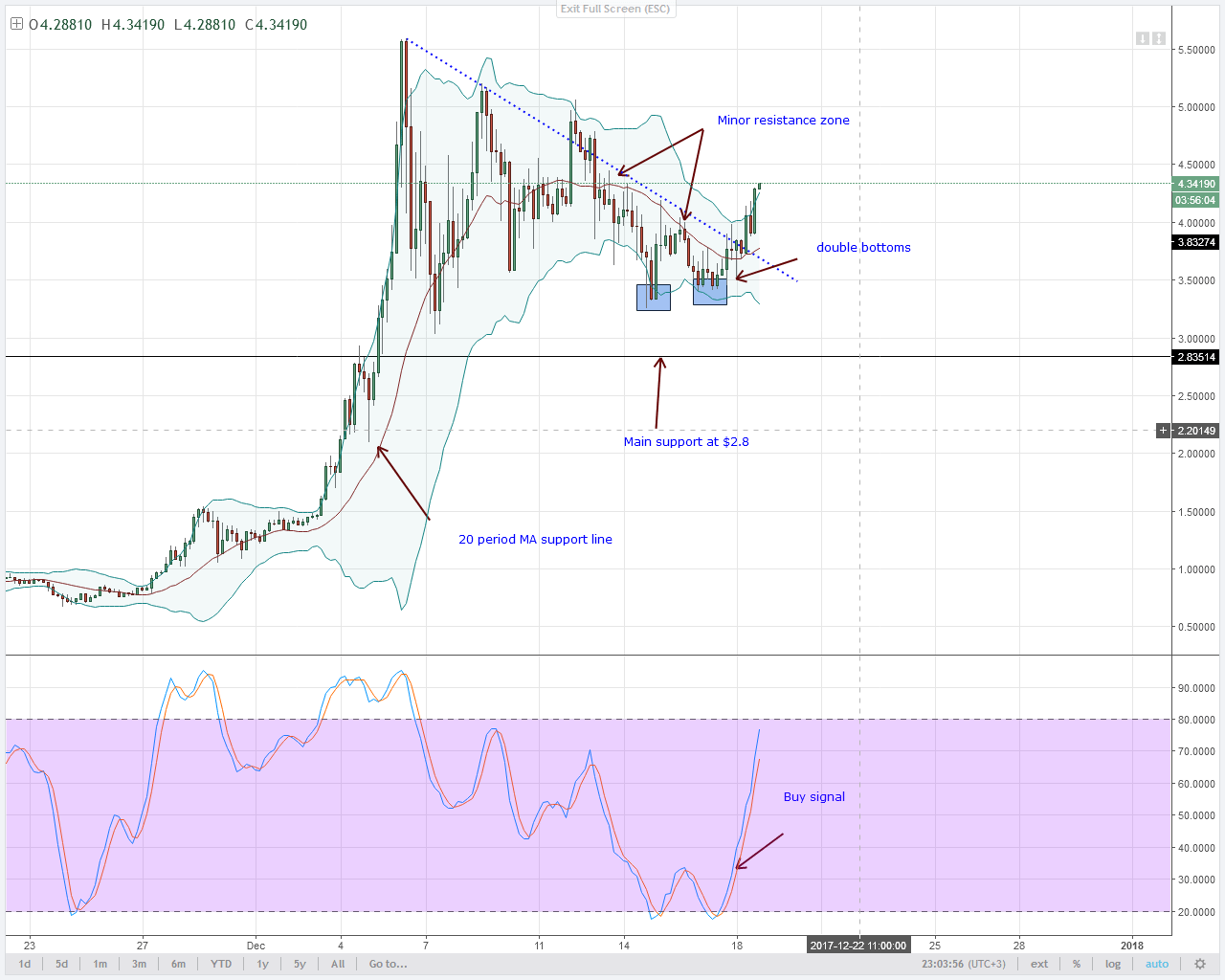 It looks like our prediction on December 19 is turning is turning out to be a USD minter.
Well guys, I recommended once prices test $5.5, we should move our stop losses to $3.5. Now let's do that and lock in some profits.
Confident of higher highs? Yep! Reason?  These strings of IOTA soldiers are a break out in the daily chart. It's basically an IOTA lift off. IOTA prices might slow down today but chances of it closing above $5.5 is also high.
Of course caution should prevail. If IOTA prices tank, then our stop losses at breakeven would be hit and we exit the trade gracefully.
COULD TRUMP LEGISLATIVE VICTORY GIVE USD SOME IMPETUS?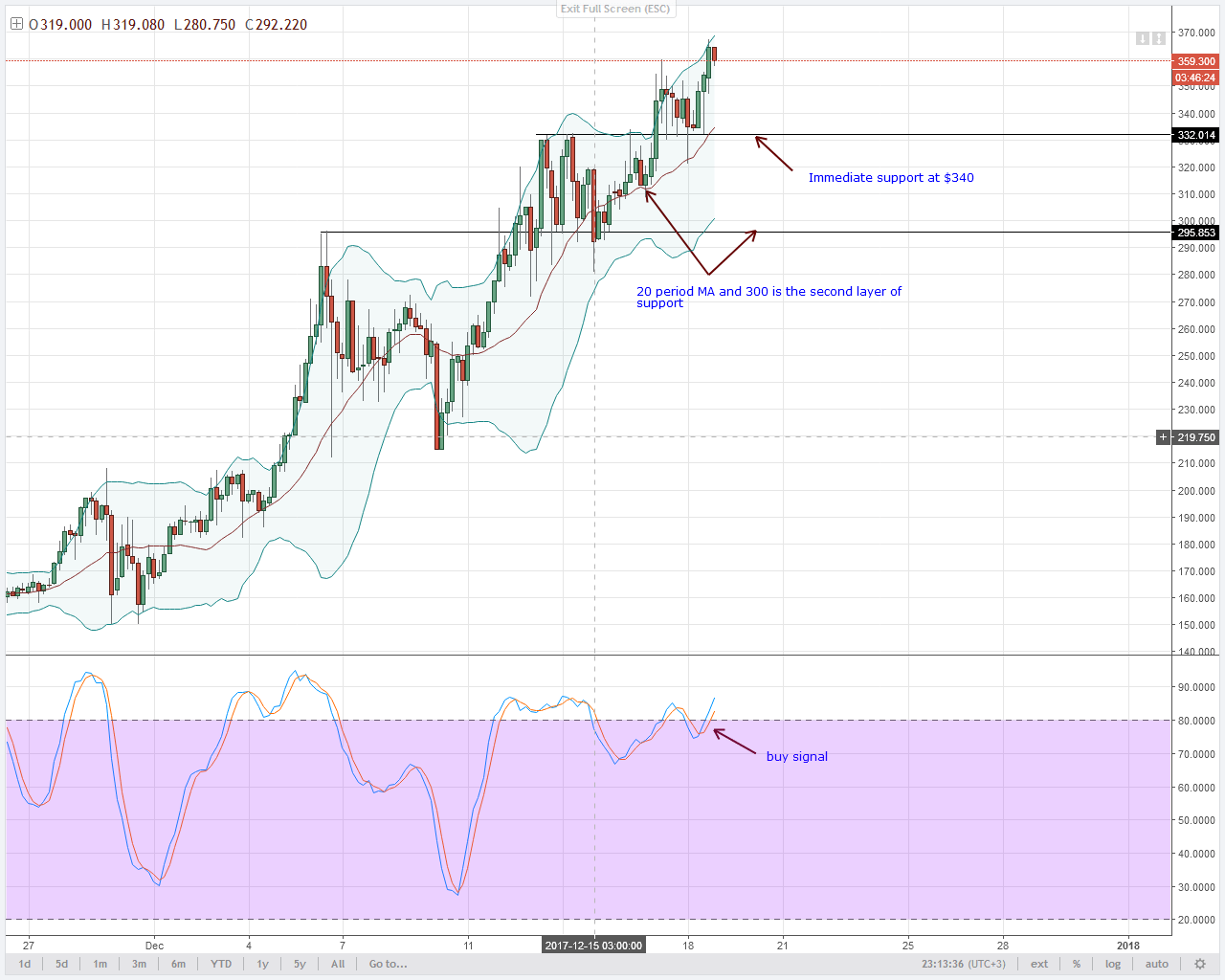 Is Monero showing cracks? Short term? likely….long term? Definitely not.
From experience, for a higher time frame candlestick to be complete, two wicks at each side of the body must be formed. Right now, the lower wick is in progress.
I would say Monero buyers are on the sidelines ready to pounce. The question on my mind is simple. Will the middle BB hold? It has been a concrete floor for the past 2 months-zoom out and check it out in the daily chart.
Now, if it does or not, that I don't know. I will only place a 65% chance advised from past reactions. In this time frame, buy momentum is slowing down and as I type this, a clear sell signal is posing like that hot chic.
Everyone can see but no one is willing to ride down with it. I'm one of them unfortunately. The moment bears drive down prices, I advise swing traders to move profits to break even.
Buy entry will happen once a buy signal shows maybe at around $290 or lower.
LTC PRICES DEPENDS ON MIDDLE BB
Its looks like my 75 cents is out. I'm watching paint dry and convinced we might have bought at the tip. LTC prices are stagnating and this is taking out LTC steam.
The $70 range to $420 seems miles ahead. Maybe it is, maybe not. Demand is slowing as stochastics show.
I'm of the opinion that prices might continue stalling as it is or even drop towards the 38.2% Fibonacci level. That by the way is first level. It can be worse. LTC might even test $250 before a buy signal prints.
That is of course dependent on if the middle BB will hold. If it does and a bull candlestick shows, that's a reprieve, if not well…we shall exit and wait for another buy opportunity.
All charts courtesy of Trading View